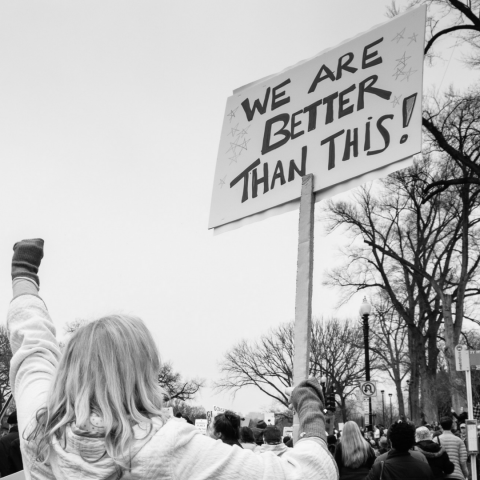 MomsRising Statement on Charlottesville: "This is a fight for our children's & our nation's future. We will not back down."
This weekend, we watch in horror as white supremacists and Nazis march through the streets of Charlottesville inciting violence that has caused the death of at least one peaceful anti-racism demonstrator.  There's no question that the election of Donald Trump has emboldened white supremacists, neo-nazis, racism, anti-Semitism, bigotry, sexism, and hate - and now, it is up to us to follow in the footsteps of brave anti-racist Americans throughout history, to stand in solidarity with those in Charlottesville opposing hate, and to defend and reinforce what truly makes our country great.  
To be clear, the diversity of our nation is what makes our country strong, innovative and prosperous; not the opposite--and we won't watch silently from the sidelines as the core of our nation's strength, and our communities, is attacked by those promoting racism and hate.
Throughout our nation's history, there have always been good people who have stood up against hate and racial violence.  It's time for us to be those people.  We must defend and advance our nation's core value of reaching for liberty, equity and equality for everyone.
This is nothing short of a fight for the soul of our nation - and we cannot lose.
We know that racism and hate are more complex than just Nazis on a march in Charlottesville.  It is deep, and systemic - but today, the fight is simple.  Every generation of Americans has had to make a choice: Either we sit by and allow hate to spread; or we oppose it with all our being.  Whether hate appears in the form of a brown-shirted nazi, a white-robed klansman, or white supremacists in khakis - we must stand together and stop it.
MomsRising's more than 1 million members mirror the rich diversity of our nation and we stand against hate, racism, anti-Semitism, white supremacy, and misogyny; as well as stand in solidarity with the courageous and diverse communities in Charlottesville and across our nation who stand against bigotry.
We urge every elected leader to specifically condemn the white supremacist and racist march and actions in Charlottesville, Virginia.  There aren't 'many sides' as President Trump said today. There is no moral equivalency between the white supremacists and the people who came out to stand up for racial justice and decency. There is only one side to condemn and that's the one advocating for white supremacy, racism, anti-Semitism, misogyny, and hate.      
We will keep marching and fighting for equity, equality and justice for everyone.  Make no mistake: This is a fight for our children's and our nation's future.  We will not back down.