Radio!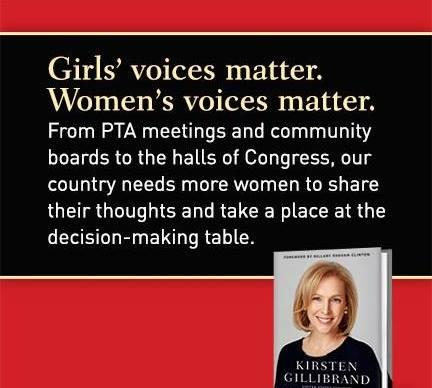 MomsRising Radio this week: Off the Sidelines with Sen.Gillibrand, Rock the Vote, Author Justina Chen & more!
"Girls' voices matter. Women's voices matter. From PTA meetings and community boards to the halls of Congress, our country needs more women to share their thoughts and take a place at the decision-making table." -- U.S. Senator Kirsten Gillibrand 
On the radio show this week we come Off The Sidelines with U.S. Senator Kirstin Gillibrand. Then our next segment covers voting-- and why your vote, and your friends and families votes, matter. Then the next interview is with the award-winning author of many books, including most recently, A Blind Spot for Boys. Hear how to be a good story teller and keep people riveted in conversations, speeches, and at the dining room table. Last but far from least, we discuss ROCK STARS, yes Rock Stars, with Rock the Vote.
*Special guests include: U.S. Senator Kirstin Gillibrand; Maria Teresa Kumar,Voto Latino and an Emmy-nominated contributor with msnbc; Justina Chen, speechwriter and award-winning author with a new book, A Blind Spot for Boys; and Ashley Spillane, Rock the Vote.
LISTEN: In the DC-area, on many stations across the nation, and anytime on TuneIn's Progressive Voices & on iTunes (where you can subscribe!):https://itunes.apple.com/us/podcast/breaking-through-kristin-rowe/id533519537
Thank you to radio experts Paul Van Erem, Sarah Howard-Garoutte, Melissa Byrne, Kymone Freeman, Alex Lawson, Peter James Callahan and Jon Sinton.