MomsRising Members, Babies Meet With Pelosi on Healthcare
It turns out that making noise at the US Capitol in support of healthcare is a lot more fun when you bring your little ones to help. On Monday, a group of DC-area MomsRising members, their kids and I headed to the Capitol to speak up for healthcare reform. We were behind the microphone with Speaker Nancy Pelosi, Marian Wright Edelman of the Children's Defense Fund, Dr. Judy Palfrey of the American Association of Pediatrics, Bill Bentley of Voices for America's Children, and Lisa Shapiro of First Focus. Quite a lineup of longtime children's advocates, including our Supermoms.

Speaker Pelosi kicked off the event, offering specifics of why reform will benefit kids and families:
"We will extend the successful SCHIP (State Children's Health Insurance Program) initiative through 2019. Insurance companies will no longer be able to come between children and their doctors. We will support the education of nurses and social workers who care for children and their parents every day. We will guarantee affordable oral, hearing and vision care for our kids, improve reimbursements for primary care physicians, and ensure the Medicaid covers primary and specialty care."
Marian Wright Edelman adds:
"This bill will guarantee access to coverage; not only for 31 million American people who are uninsured, but it will extend guaranteed access to health coverage to more than 95 percent of our children. No, we have not gotten all the way across the finish line but we are very close toward it, and this is a huge step forward. And millions of low-income parents and adults for whom health coverage is simply out of reach are going to benefit."
With a special note for foster kids:
"All those parents who have older children are going to see that coverage can be extended until they are 26, and I am particularly pleased that children in foster care, our most vulnerable children, will be able to get extended health coverage until they are 26 years old."
When I spoke, I made sure to share this zinger of a fact: "Across the country, families are seeing health insurance rate hikes of up to 39 percent. And that's not because insurers are facing tough times. In fact, last year the five largest insurance companies earned 56 percent more in profits and they covered 2.7 million fewer people."
And this one: "Families USA has estimated that without change, 275,000 people will die prematurely in the next 10 years because they don't have health insurance coverage. "
Then I got to share this personal story from a MomsRising member. With all the kids at the event, I couldn't help tearing up as I told her story: "A few months back, we got a letter from a Moms Rising member in Florida. The mother of three young children, who told us that she didn't have health insurance and she couldn't afford a crucial test that would show whether her cancer was in remission or not. So she has to face her kids and her family every single day not knowing if she's getting better or not. And she told us to stand here today for her."
So we did.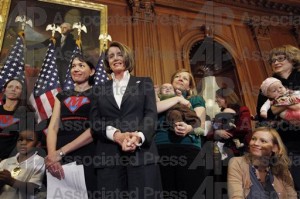 AP Image, Gerald Herbert. DC MomsRising members, Speaker Pelosi, and me
(For a full length transcript of the event, check out http://www.speaker.gov/blog/?p=2190)
One thing that you can't see in these photos is the crowd of reporters. There were tons of them there, and they were actually looking downright cheerful thanks to the babies who accompanied their moms to the event. It was a pretty special thing to have so many kids at an event like this, if talking with Capitol security is any indication-- it took some time to confirm that strollers would actually be allowed in! Fortunately we got the all-clear and were glad we could include kids in the event. Their presence reminds us that since they can't vote, they need us to be their voices in the halls of Congress.
I want to also share that Speaker Pelosi loved the diapers decorated with MomsRising members' messages in support of health reform. Keep the comments and personal stories for health reform coming on our petition here!
This was an amazing event thanks to all of our members, both on the ground and online. The energy of all of us standing up together for our kids is what made this possible. Thank you so much for all you do.
VIDEO: MomsRising members speak up for healthcare on Capitol Hill