Give Today!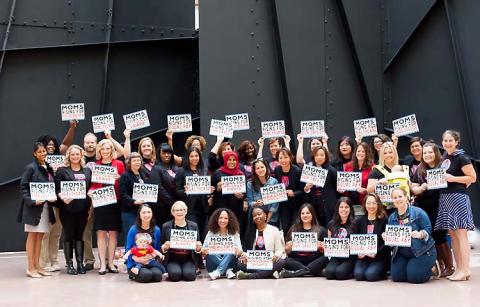 MomsRising, it's Giving Tuesday. May we match your gift?
Today, we're celebrating Giving Tuesday 2018 by sharing 10 of your "why" stories — why you voted, why you rise, and why you #KeepMarching. We received over 800 "Why I KeepMarching" statements, from every corner of the nation. They gave us goosebumps, tears, laughter ... a much-needed boost after the election ... and hope for our future.
From the bottom of our hearts ... thank you. We love this community and we're energized by your energy and kindness every single day.
And MomsRising, please consider keeping the MOMentum burning bright with a Giving Tuesday contribution today, which will be matched $1-for-$1 by another generous MomsRising donor. Every gift brings us closer to our goal of raising $15,000 TODAY to make positive change for moms and families in America.
Kayanda from California
"Because I would like change in the White House, I expect change in the White House. And hoping that we can get guns off the street and not have children get killed. I do not have children of my own but I do have three wonderful nieces that I really love and it would really hurt me if something was to happen to them."
Robbi from Michigan
"Can't march; can't donate; however, have mouth — will USE! Have fingers — will text! Because I love my country and I want it BACK!!!"
Joanne from Wisconsin
"I'm a 33-year veteran of the public school teaching force in Wisconsin, that's why I vote. I am a mother of 3 children who's planet is being destroyed, that's why I vote...I have had cancer 3 times and I believe that I am entitled to health care, that's why I vote."
Anita from Nevada
"In 1971 the age to vote was changed to 18, my year! I felt and still feel it is a sacred honor to be a part of democracy. I feel that one voice DOES make a difference."
Edie from Maryland
"I voted to save democracy, the rule of law, individual rights, and this country's moral compass...I voted to welcome diversity, repudiate bigotry and xenophobia, protect the right to choose and fight climate change."
MomsRising, the election is over, but our fight for healthcare, gun safety, immigration fairness and women's rights marches on. Will you power up MOMentum for women and families in 2019 and beyond with a Giving Tuesday gift today?
Mary from Utah
"I do not accept the idea that gun violence must now be part of our everyday existence. People who care enough can end it!"
Bertha from Massachusetts
"There was a time when my parents were denied their right to vote. People died so that I could exercise my rights...We need to do all we can to insure that we are not going backward but moving forward."
Letitia from North Carolina
"To get back the respect we need as Women, have our Voice heard & fight for fairness to all citizens."
William from New Jersey
"I am neither a mom or a woman, but I am a father who raised his children on his own. I believe in empowering women. I believe that the world would be a better, safer and more compassionate place if more women were in positions of authority. That is why I voted and why I will continue to vote every chance that I get."
Frances from Washington
"I am 79 years old, and thought we had won these battles for our daughters and sons, grandsons and granddaughters fifty years ago. Obviously, we have to win them all over again, and I will never stop working to secure a safe, decent country for ALL our citizens."
There are thousands of people like Kayanda, Joanne, Robbi, Anita, Edie, Mary, Bertha, Letitia, William and Frances ... with a passion to make America a decent country for all.
You can ignite their power, and help us all rise to our fullest potential as advocates for equality and justice, with a Giving Tuesday gift to MomsRising today.
Thanks again for your commitment to moms and families in America.
Together, we #KeepMarching.