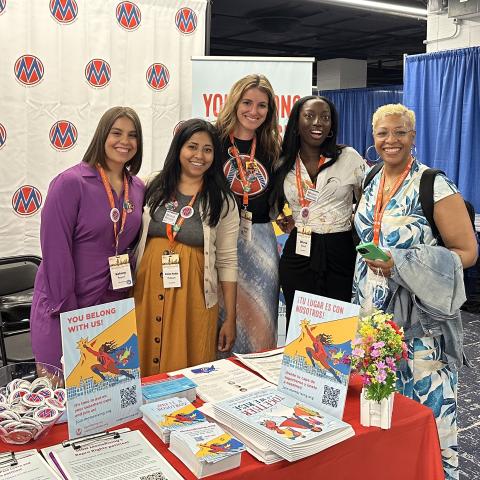 MomsRising Goes to Netroots Nation 2023
In case you missed us, MomsRising Staff spent a few days in Chicago connecting with other activists, speaking on panels, and digging deeper in to the work that we do. 
Our engagement team created a space for moms and caregivers to connect, be in community, and celebrate our growing power. The dynamic group shared their caregiving stories and ways policies could support them. Truly, moms and caregivers are rising like never before to fight for programs that unite and lift us all!
Staff engaged in panels that outlined just a few of the many facets that comprise advocacy work. Our Chief Techonology officer was a panelist that discussed How Data Engineering Can Make Organizers' Dreams Come True  where they discussed how techonology can streamline aspects of organizing, freeing up more time to really focus on the organizing part.
Gloria moderated a panel on Gun Violence as a Civil Rights Issue and and Kristen outlined Why Care Infrastructure Wins (and the fight ahead) Impact Everyone during her panel. 
Overall, we were thrilled to spend time with each other and the many advocates gathered for such an impactful weekend of sharing, learning, and empowerment to continue the work we do.