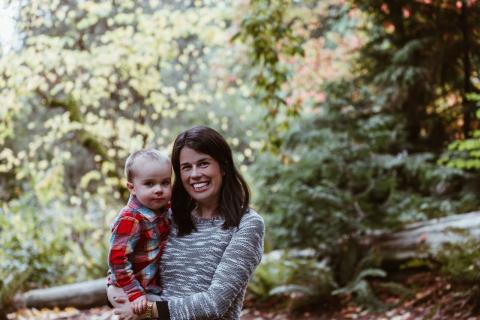 MomsRising Endorses 'Washington Won't Discriminate'
Marlo Mack was a die-hard Rush Limbaugh fan, but then her child came out as trans and Mack's world view changed. In her award-winning podcast "How to Be a Girl," Marlo shares touching stories about the joys and challenges of raising her transgender 9-year-old.
As a Campaign Director with MomsRising, and as the mother of a young child, I can only imagine the anxiety that Marlo must feel as she watches our home state of Washington consider putting her child's safety and rights up for a vote. A new initiative, I-1552, would repeal our state's long-standing laws ensuring people – including our transgender family members – access to public facilities and bathrooms that match the gender identity they live each day.
    
For over a decade, without much fanfare, non-discrimination laws have functioned just as intended, by protecting people from discrimination while maintaining safety and privacy for all. In fact, the National Task Force to End Sexual and Domestic Violence Against Women found no increases in public safety incidences in any of the 200 cities and towns that have anti-discrimination protections similar to Washington State.
Despite this, proponents of I-1552 are gathering signatures with misleading claims and fear mongering about Washington's decade-old law in a harmful attempt to roll it back.
Changing our longstanding laws would not protect anyone's privacy or safety. This initiative is nothing short of disastrous.
To start, if I-1552 were to pass, it would not only be impossible to enforce, it would also invite harassment. The initiative says that an individual has to provide "proof of birth" in order to go to the women's or men's room. What does that even mean? Who would this proof be provided to? Would that mean that any stranger could ask for a birth certificate, an invasive body check, or a genetic DNA test before you can do something as simple as use the restroom?
This could also be disastrous for our children at school, as well as for the schools themselves. As parents, we love our children and care deeply about their safety, well-being, and future success. Yet, the way the initiative is written, children are incentivized to harass and bully their transgender peers. Further, I-1552 would open the door for schools to be sued simply for allowing students to use the bathroom that matches their gender identity.  
Mothers across Washington State want children to be treated with dignity and respect. It's clear: I-1552 does not represent the values of Washington.
That's why MomsRising has joined more than 500 elected officials and leaders in education, business, faith communities, law enforcement, and women's safety in endorsing Washington Won't Discriminate, the campaign to stop I-1552 and protect our transgender family, friends and neighbors from discrimination. We are extraordinarily proud to stand alongside mothers and children across Washington State; and we urge you to do the same by declining to sign I-1552.
 
Learn more at NoOn1552.org/decline