MomsRising Celebrates and Looks Forward to Expanding on FMLA with Our Partners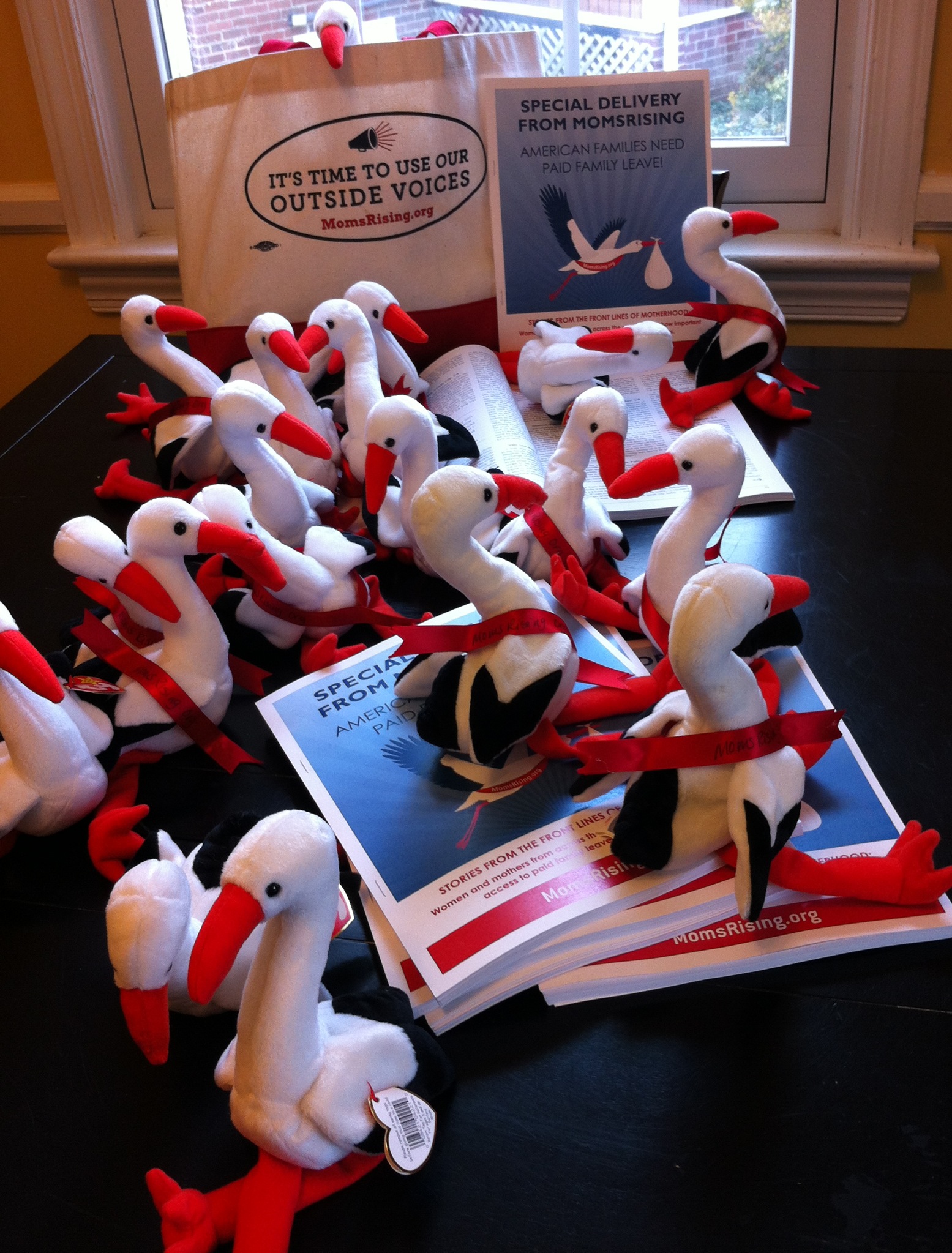 Today we celebrate the 20th anniversary of the Family and Medical Leave Act, or FMLA. Legislation that has been used an estimated 100 million times – by moms and dads to take care of new babies, by adult children to care for ailing parents, by husbands and wives to care for a spouse with a serious illness, and by workers to recover from their own illnesses.
This morning, MomsRising marked the anniversary with a very special delivery to our federal legislators on Capitol Hill. We delivered toy storks and books containing the stories of people who are grateful to have been able to use FMLA, to care for a new baby and any number of other reasons; as well as stories of people who were unable to take FMLA because it is unpaid leave.
We shared the story of Barbara who used FMLA when she adopted her daughter, and of Gwynne, who used it to care for her dying father in his final days, and again when her son was born. We shared the story of Marya, who used family leave to care for her four-year-old son when he was undergoing chemotherapy. Each of these women was deeply grateful to be able to take the time to fulfill her family responsibilities. Additional families shared stories of why having access to paid family leave is critically important. More stories are available on the MomsRising blog as well as this link.
FMLA has made many lives better, but there's still a lot of room for improvement. Only about half of workers are eligible for FMLA – and a significant number of people who are eligible to use FMLA aren't able to afford to do so, because it's unpaid leave.
Americans agree, ensuring you can care for your loved ones and not have to give up a paycheck to do it should be a workplace standard. There's nothing more important than taking responsibility and caring for your family. It's well past time we honor our families and our nation by making paid time for prolonged illness, birth, and adoption the law.