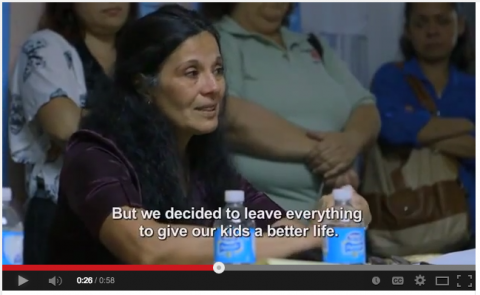 I never thought sending a Facebook "Friend Request" could impact me they way it did.  
One day on my Facebook wall, I noticed an organization called "DREAMers Moms", so I sent them a friend request. I quickly received a response that they wanted me to come to a meeting in Miami, Florida. I was changed forever…
The meeting overwhelmed me, and I was able to catch it on film for "Documented" (which airs June 29th on CNN). Seeing the sacrifice these mothers made for their children so they could have a brighter future, the ability to go to college, build careers they never imagined, and build their own families was a true act of love.  This started answering questions for me on why my own Mama sent me to America to live with Lolo and Lola (grandfather and grandmother).  I never understood the act of love Mama not only did for me, but for my future and opportunity in America until now.  She sacrificed us being together, living in the same country but never gave up on her love for me. This meeting with DREAMers Moms was the spark that I needed to understand how the a mother's love is unconditional for their children.  We all dream the same dream.
Click here to see the "DREAMers Moms" meeting and the act of love which came in full circle for me.
In this time of crisis for our nation, we need to know these mothers. That's why we're joining with momsrising to ask every mom to host a watch party on June 29th with their friends, neighbors, and family. For more information click here for information on hosting a watch party in your area.
http://act.defineamerican.com/page/s/host-a-documented-watch-party?partner=moms