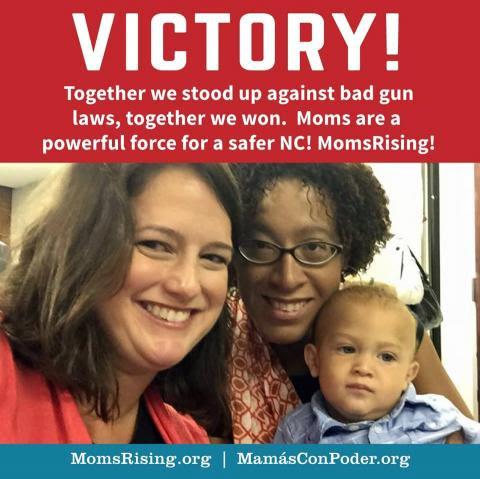 Moms vs. The NRA: The Force Awakens!
When I was a child, the 13-year-old daughter of my dad's co-worker shot herself.
When I was a college student, I worked in a neighborhood that had just experienced the death of a young girl killed by a drive-by shooting.
When I was in graduate school, I volunteered on a domestic violence hotline and spoke to many women who feared for their lives at the hands of their abusers who had guns.
Today, I campaign tirelessly with MomsRising in North Carolina to prevent gun violence, and I KNOW your gifts make a difference because we're gaining momentum and moving gun safety policy forward every day.
Dear blog readers, rise with me for families scarred by gun violence. Support commonsense gun reform with a gift of $5 or more to MomsRising.
With support from moms and dads like you this year, MomsRising fought back against the gun lobby in North Carolina, and won.
Yes, you read that right: We've won in the past, and together we'll win again. Here's how we won in North Carolina recently. I joined moms, kids, grandparents and friends to fill the North Carolina State Legislature gallery, day after day, until lawmakers listened to us and we defeated the gun lobby.
Together we protected important background check laws for handgun purchases. The gun lobby thought no one was paying attention in this battle. They were wrong. MOMS were paying attention, and we're not going ANYWHERE.
This is how we win—on the ground and online, state-by-state, TOGETHER. And we have so much more to do.
Fuel the next important victory for moms and families with a gift to MomsRising today.
This is a really great time to give – a donor just like you agreed to boost your gift by $25, but only if you make it before December 31st!
The fact is, an American child dies by a gun every other day. Every. Other. Day.
Enough is enough.
The only thing that will break the stranglehold that the corporate gun lobby has on our lawmakers is US—you, me, and every mom and dad out there who cares AND takes action.