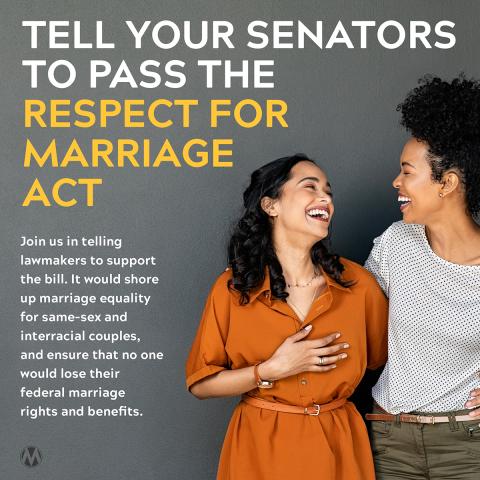 Moms to U.S. Senate: Protect marriage equality
Good news! We are incredibly close to passing the bipartisan Respect for Marriage Act in Congress, which would codify federal marriage equality for the LGBTQIA+ community. We just need your help getting it over the finish line! 
****SIGN NOW and tell your U.S. Senators to guarantee marriage equality and vote YES on the Respect for Marriage Act!
Here's what's going on: The ramifications of the Supreme Court's ruling on abortion is far reaching–not just for people's access to safe abortions but, as it turns out, same-sex marriage.
When the Supreme Court overturned Roe v. Wade, they also put at risk numerous other rights our families depend on, including marriage equality for the LGBTQIA+ community. [1] In fact, conservative justice Clarence Thomas revealed the far-right's playbook when he wrote in his opinion that the abortion ruling is just the beginning. He'd like to see the Supreme Court overturn our right to birth control, our freedom to marry, and more.
This is why the House of Representatives took immediate action and passed the bipartisan Respect for Marriage Act (S.4556/H.R.8404). The bill would codify federal marriage equality by guaranteeing to same-sex families the rights, benefits, and obligations of marriage in U.S. law, repeal the discriminatory Defense of Marriage Act (DOMA), and ensure that marriages are legally recognized across state lines. This is an important opportunity to reaffirm the freedom to marry and protect the millions of families nationwide who deserve to have their marriages protected and respected under the law. Now is the time for the Senate to take action. Senate Majority Leader Chuck Schumer has said he will schedule a vote in the Senate in the coming weeks. [2] 
We are incredibly close to guaranteeing that same-sex couples have the right to marry. Help us get this over the finish line–SIGN our letter now calling on your Senators to vote "yes" on the Respect for Marriage Act! 
LGBTQ+ people deserve the right to plan for their futures with a sense of security to build their families on their own terms. Between 2 million and 3.7 million children under age 18 have an LGBTQ+ parent. [3] We owe it to families and children across the country to codify marriage equality immediately. Marriage is about love, commitment, and family. It is also about benefits, protections and obligations that are prescribed to married couples under federal law. This is why the Respect for Marriage Act is so important! 
The vast majority of Americans believe that all families should have the certainty and freedom to marry and live without fear. In fact, support for LGBTQIA+ marriage equality is at an all-time high of 71%, including 55% of Republicans, 83% of Democrats, and 73% of independents. [4] 
It's fantastic that marriage equality has so much bipartisan support from voters and in Congress, but let's be real - it's also beside the point without legal rights we can enforce. Our rights should not be up for debate, and it's time to codify marriage equality into federal law and protect our families. 
***Join us in guaranteeing that marriage equality is the law of the land! Sign our letter now and then forward this email to your friends and family so they can sign as well.
Together we can guarantee that all of our families are equal!