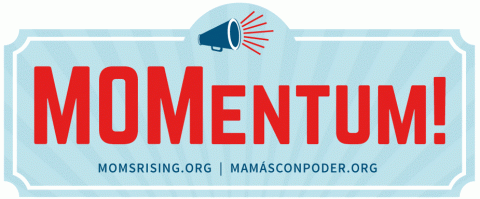 Moms rise in crisis: Your March MOMentum
How your actions and donations are making a difference
As you know, this movement fights for essential, lifesaving, and long overdue rights for all women, moms and families every day -- rights like accessible, affordable healthcare and child care, paid sick days, paid family and medical leave, among others. Rights that are more important than ever in times of crisis like now.
Thanks to supporters and donors like you, MomsRising's policy priorities are front and center in the COVID-19 legislative relief packages that Congress has debated and passed, finally. (You can read our statement on the CARES Act here.)
It's MomsRising supporters and donors like you who provide essential support to the MomsRising movement, powering us up to win progress and get much needed support for families in moments like these.
This community has responded as moms do: with overwhelming compassion, generosity, solidarity, and useful, timely information. We're highlighting below just a few of the many, many resources and opportunities that your actions and donations helped make possible. And while you're here on our website, check out the Take Action page and the Campaigns page to see more ways you can be involved and make a difference.
We appreciate you and all that you do to make the world a better, safer, more just place for women and families.
Thank you for being part of the MomsRising movement.
CHILDCARE: When Schools Close, Child Care Centers Come to the Rescue. What Happens When They Must Close, Too?
MASTER CLASS: Is the Social Distancing Life Overwhelming You? Latina Moms are Here to Save the Day!
MEDIA SPOTLIGHT: I live in Kirkland, epicenter of the US outbreak. We need Trump to take this seriously by MomsRising Executive Director Kristin Rowe-Finkbeiner on CNN.
DONATE: If you'd like to help, please consider making a one time gift to power up MOMentum today, or join our monthly giving program, MomsRising Champions.
We love to hear your feedback. What inspires you to be a MomsRising supporter? What does MomsRising mean to you? Send your thoughts to me, anita@momsrising.org. Thank you!