Moms of Children With Pre-existing Conditions Speak Out: A MomsVote Blog Carnival
What do mom voters care about? Well, lots of things. But if you have a loved one with a pre-existing condition, health care security is always high on the list of concerns.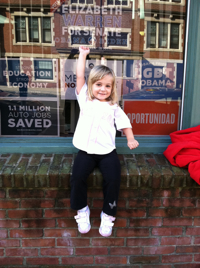 (Photo on right: Prior to the Affordable Care Act, Gracie was uninsurable and/or faced a lifetime limit on health care because she was born premature.) For years, parents have made professional, personal and even medical decisions based on one primary goal: keeping stable health insurance. And for good reason.
Before the Affordable Care Act, insurance companies could legally deny coverage to children (and adults) based on pre-existing conditions, provide insurance coverage but not pay for medical care related to pre-existing conditions or even drop coverage when you needed it most. It's no surprise that health care security is driving moms to the ballot box.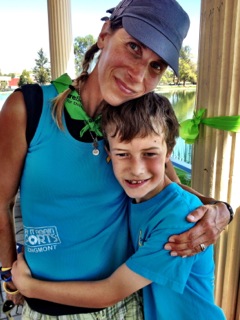 (Photo on right: Tracy Heiman's 9-year-old son could have been dropped from health care coverage or denied insurance as an adult because he had cancer.) The new consumer protections against pre-existing condition denials will affect million of families. According to a survey by Families USA, approximately 57 million Americans under 65 -- 22.4% -- have a pre-existing condition that, absent health reform, could lead to a denial of coverage by an insurance company. Additionally, nearly 5 million children under the age of 18 have a pre-existing condition that could lead to a denial of coverage.
The stories below shared by MomsRising members highlight the real impact of health reform on American children and families. For these parents, health care coverage is not a campaign talking point but an issue of serious consequence and concern.
Join them and commit to voting on November 6th! Click here to learn more.
AnnMarie Duchon, Massachusetts, "I Am Voting for the Affordable Care Act, My Daughter's Health and Economic Future"
"Gracie is healthy and thriving today and thanks to the Affordable Care Act, Gracie's rough beginning won't mean a lifetime of limited access to health care. Under the new health care provisions, insurance companies can no longer limit coverage when a patient has reached their 'lifetime cap' of coverage or deny coverage based on 'pre-existing' conditions."
Michelle Cunningham, Texas, "I Am Voting To Keep My Son Healthy"
"Prior to the Affordable Care Act, I was told by every insurance broker who I spoke with that no insurance company would sell us coverage for our son because of his pre-existing condition. He was considered 'uninsurable' until he had been off treatment for at least 5 years."
Tracy Muñoz, Virginia, "I Am Voting Because Health Care Coverage Is Important"
"My 24-year-old son attends graduate school full-time and works part-time. If he didn't have health coverage, my son would have to drop out of school and face poor job prospects in our present economy, impacting his career earning potential and capacity to support his family in the future."
Kari Anne Roy, Texas, "I Am Voting for Our Family's Financial Stability"
"Isaac has to fight to breathe; he should not also have to fight to get the medical treatment he needs. As a mom, there is nothing more valuable to me than my child's future and, for this reason, I will have my family's healthcare security in mind as I vote this November."
Donna Crane, Arizona, "I Am Voting for the ACA Because It Saves Lives"
"With pre-existing high blood pressure and pancreatitis, when my son tried to get an individual health insurance policy, he was given insurance quotes of $1,200-$1,600 a month, which was completely unaffordable with only unemployment insurance income."
Teri Kepner, Maryland, "I Am Voting to Protect My Son's Health, His Professional Goals"
"Today, because of the Affordable Care Act, Cody is back on our family plan and getting the lower-cost treatment he needs to stay out of the emergency room and stay healthy. He's attending graduate school and pursuing his professional goals.
 Securing Cody's healthy future is my top reason for voting this November."
Elaine Cornett, Virginia, "I Am Voting For a Healthy Future For My Daughter"
"At diabetes support group gatherings, I've talked to countless parents who have had difficulty getting and keeping their child insured in the past. Several of the people I've talked to at these gatherings have moved or changed jobs, only to find that the subsequent change in their insurance plan means their child is no longer covered for Type 1 Diabetes care."
Tracy Heiman, Colorado, "I Am Voting For the Health Care Security of My Son Who Has Cancer"
"With the passing of the Affordable Care Act, I don't have to worry that my son will not have to face an annual or lifetime limit for his care. I never have to worry that our insurance company will drop us when we need insurance the most. And I know that when my son grows up, he will not be denied coverage because he had the misfortune to have cancer as a child."
Lisa Doyle, Minnesota, "I Am Voting For My Daughter's Health, Her Future Financial Security"
"In early 2011 – just weeks after Julie would have been uninsured without the Affordable Care Act – she received a pacemaker to treat third-degree heart block which could result in sudden cardiac arrest. The day after the pacemaker was inserted, she looked and me and said, "Mom, look at my fingernails! They are pink!" It had been a long time since blood had reached her extremities."
Christine Farley, Maryland, "I Am Voting For My Son's Health, His Future"
"Young adults with cystic fibrosis are often denied insurance coverage and also face barriers in their careers as they make work and life choices that are dictated by a limited set of health care options. That's not the future I want for my son."
Emily Townsend, Maryland, "I Am Voting For My Daughter's Health Care Security"
"Medicaid is the main source of care for millions of people with disabilities like my daughter. She and others like her are deserving of a long and dignified life. This November, I'm voting for my daughter's healthcare security."
Fired up? Sign up for MomsRising's e-mails -- it's free!