Moms' hearts break the loudest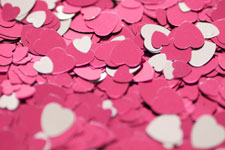 When one mom I know turned on her TV and saw the breaking news about a gunman at the Sandy Hook Elementary School in Newtown, CT, she stood up and started shouting, "No!" and throwing pieces of laundry she had been folding at the TV screen. Another mom I know got straight into her car to bring her first-grader home from school to spend the rest of the afternoon huddling under the covers with him. As for me, I picked up the phone to share my shock over the horrific story with my husband, but when he answered, burst into tears before I could get a single word out.
The fact is, on December 14, the Sandy Hook shootings broke the hearts of millions of moms across the country. But we know it's not enough to grieve. We must make sure this tragedy is never repeated.
On Valentine's Day, the two-month anniversary of the Sandy Hook shootings, MomsRising will make sure members of Congress know that moms have not forgotten about this tragedy. Together, we'll bring our broken hearts and strong voices to Congress to demand strong action.
What: MomsRising's "Have a Heart, Save Lives" gathering to demand Congressional action to reduce gun violence, followed by visits to Congressional and Senate offices
When: February 14, 2013, 11:00 AM EST
Where: Lutheran Church of the Reformation on Capitol Hill (212 East Capitol Street, SE, Washington, DC 20003)***
Say You'll Come Too: RSVP here.
MomsRising's Valentine's Day event will be a concert, a mini rally, a press event, and a call to action. Join us to urge lawmakers to "Have a Heart, Save Lives" by moving forward on meaningful gun policy reform. We will hear performances by an internationally renowned children's choir. Elected leaders will share their thoughts, gun violence survivors will share their stories, and refreshments will be served. (Kids are welcome!)
Following the gathering, we will proceed to House and Senate offices to deliver petition signatures, letters, and valentines created by moms, dads and kids across the country with messages to Congress encouraging Senators and Representatives to support and pass common-sense gun violence prevention laws.
The Sandy Hook Elementary school tragedy sparked MomsRising members to demand action to make our children and our communities safer from gun violence. More than 150,000 moms and family members have signed on to Momsrising's petition urging Congress to stop blocking common-sense gun regulations that protect all of our families. Lobbyists for the gun industry are out in force fighting against common-sense gun violence prevention legislation. It's time for moms and kids to show up in person to let lawmakers know that they must do everything possible to make sure Sandy Hook never happens again.
On Valentine's Day, moms will bring their broken hearts and strong voices to lawmakers and make sure they are heard. Will you bring your broken heart, too? Please say you will and RSVP here.
***Our use of space at the Lutheran Church of the Reformation does not indicate endorsement or sponsorship by the church.
IMAGE: Courtesy of Free Images