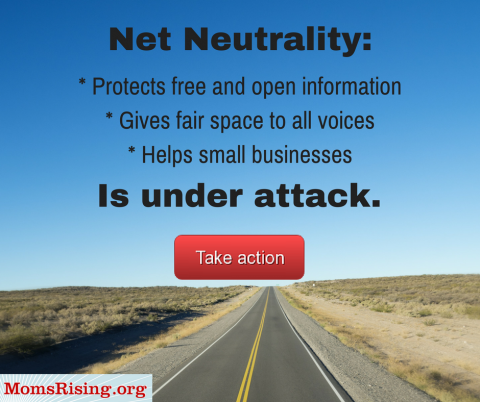 Moms Group Joins Massive Internet-Wide Day of Action for Net Neutrality on July 12th
MomsRising, an organization of more than 1 million mothers and their families, has announced that it will participate in the Internet-Wide Day of Action to Save Net Neutrality scheduled for July 12th to oppose the FCC's plan to slash Title II, the legal foundation for net neutrality rules that protect online free speech and innovation. Twitter, Reddit, Netflix, Amazon, Kickstarter, Etsy, Vimeo, Mozilla, OK Cupid, Imgur, Medium, and dozens of other major sites are also participating.
 
MomsRising and other participants will display a prominent message to their users on July 12 and encourage them to take action by contacting Congress and the Federal Communications Commission (FCC).
 
Kristin Rowe-Finkbeiner, Executive Director and CEO of MomsRising, explained:
 
"Grassroots organizations like MomsRising simply cannot do the urgent work of fighting for the economic and social justice of America's working families without a truly free internet. Simply put, the open access and freedom of the internet are indispensable tools in transforming the good intentions of concerned citizens into actions that make a difference.
"The internet has changed the organizing game, and through creative digital ways of fighting for change—whether it's online petition signatures, tweets directly to members of Congress from constituents, and the dissemination of personal stories from groups like MomsRising members that have changed legislators' minds on harmful bills—we've leveraged the power of the people on the internet in unique and effective ways that win.
 
"More importantly, the internet has created a space where people whose voices have been marginalized are able to speak out powerfully, and to organize and build online communities to create offline results. An open internet is essential to protecting some of our most fundamental human rights: Our ability to innovate, speak our mind, connect, and hear diverse voices and opinions. That is why, on today's Day of Action, thousands of MomsRising members are calling on the FCC and Congress to protect net neutrality and ensure a level playing field to internet access."
 
More than 50,000 people, sites, and organizations have signed on to the effort overall, and more announcements from major companies are expected in the coming days. Participants will display prominent messages on their homepages on July 12 or encourage users to take action in other ways, using push notifications, videos, social media, and emails.
 
See the announcement for the day of action here: https://battleforthenet.com/july12  
 
The effort is led by many of the grassroots groups behind the largest online protests in history, including the SOPA blackout and the Internet Slowdown.
 
"If we lose net neutrality, the Internet will never be the same," said Evan Greer, campaign director of Fight for the Future, one of the leading groups behind the protest, "No one wants their cable company to have control over what they can see and do online. Internet users know that their freedom is worth fighting for, and on July 12, we'll fight to win."