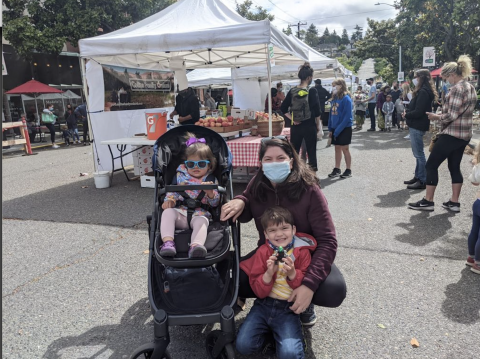 Moms Got It Done This Year in the Washington Legislature
Last September, as wildfires ravaged the Pacific Northwest, my son George's preschool was closed because it was unsafe to play outside. For what was already a very hard year for our kids—in the middle of an unprecedented global pandemic—I had to explain to my son that this time it wasn't the virus, but due to climate change. Our planet is warming and Washington state was literally on fire. This is not the future I want to leave my children.
As a newly elected Washington State Representative, it is an honor to fight for my kids and yours every single day. Because as the proud mom of George, 5, and Eleanor, 21 months, it's personal.  
It's not easy to serve in public office with young kids at home, and at my house, it really takes a village. I ran as a first-time candidate during a public health crisis because representation matters. I did not see many people like me—working moms with small children—at the State Capitol making decisions that impacted my community. I wanted to be a part of changing that.
So, within a few months of being sworn into public office, I was proud to re-establish and co-chair the House Democratic Moms' Caucus alongside Rep. Tana Senn to give moms (and dads!) a collective voice in the Legislature. The mission of the Moms' Caucus is rooted in the belief that Washington's moms deserve better especially during COVID-19 when millions of women left the workforce and carried the responsibility of caring for their families.
The Moms' Caucus advocated for 18 legislative and budget investments that included affordable child care, expanding the Paid Family and Medical Leave program, extended post-partum coverage under Medicaid, funding the Working Families Tax Credit and strong investments in the state budget for diaper banks. Ultimately, we saw the successful passage of all but one of our priorities which taught us that our leadership made a difference.
We have our work cut out for us in future sessions. Thankfully, we have some amazing groups on our team including MomsRising/MamásConPoder who will continue advocating for what moms and families deserve. Thank YOU for pushing for change. Your lived experience as a parent makes you an expert in many things—snuggles, one-handed diaper changes, and knowing exactly what families need for strong futures. I want you to know that your fellow Moms in the Legislature have your back.