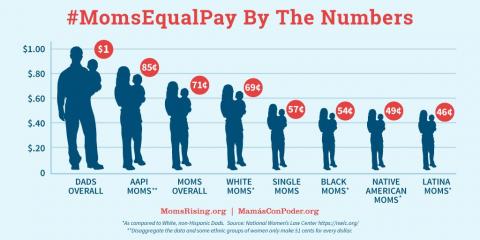 Moms Demand Fair Pay, Equal Opportunity
Today marks how long mothers in the United States have to work into the new year to earn what fathers were paid in the previous calendar year. In every single state, moms are paid less than dads. That is disgraceful. This persistent wage discrimination doesn't just hurt moms -- it causes great financial insecurity for families and damages our economy.
Many moms are the primary or only breadwinner for their families, yet mothers in this country are paid, on average, just 71 cents for every dollar paid to dads. The wages of moms of color are hit even harder: Black moms earn just 54 cents; Latina moms 46 cents; Native American moms 49 cents; and Asian American Pacific Islander moms 85 cents, with some Asian-American subgroups paid significantly less. Single moms suffer a punishing wage gap as well, earning on average just 57 cents for every dollar paid to dads.
Our country claims to value mothers, but these numbers reveal the truth: Women are punished financially when they become mothers. In fact, becoming a mother is now a greater predictor of wage and hiring discrimination than being a woman, and it puts moms at a lifelong economic disadvantage.
Lawmakers can boost mothers, families, communities and our economy by championing pro-family policies like: paycheck and workplace fairness; paid family and medical leave; affordable, high-quality early learning opportunities, like childcare and pre-K; earned sick days; accommodations for pregnant workers; and a higher minimum wage.
It's time to stop just paying lip service to moms. Our elected officials must take real action to close the wage gap. Moms are a powerful force for change in this country, and we will continue to speak out until we achieve fair pay and equal opportunity in the workplace.