Moms Ask Congress to "Have a Heart" On Valentine's Day; Pass Common Sense Gun Laws
On a day usually associated with candy hearts, red roses and romance, America's moms will call on Congress to "have a heart" and pass common sense gun laws. MomsRising, the online and on-the-ground grassroots organization with more than 1.1 million members, held a special event at the Lutheran Church of the Reformation with gun violence survivors and featuring a performance by the internationally renowned World Children's Choir.
 I spoke as a mom and as Executive Director and Co-Founder of MomsRising, and I was joined onstage by Lori Haas, Virginia Organizer of the
Coalition to Stop Gun Violence
; Pam Simon, a gun violence survivor with Congresswoman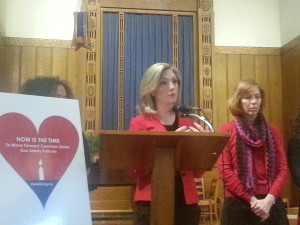 Gabrielle Giffords;
Senator Kirstin Gillibrand
of New York;
Congresswoman Elizabeth Esty
of Connecticut;
Congresswoman Jackie Speier
of California; and several other moms moved to speak out on this issue.
The rally included performances by the internationally renowned World Children's Choir, led by Artistic Director Sondra Harnes, and the first-person stories of survivors of gun violence.
We're on our way to Capitol Hill to deliver MomsRising's petition with more than 150,000 signatures urging the National Rifle Association (NRA) and Congress to stop blocking common sense gun regulations, and Valentines from people across the country urging Congress to pass gun laws that include:
Universal background checks for all gun purchases, including gun shows and on the Internet.
An assault weapon ban, which also limits high capacity magazines.
A federal gun trafficking statute with real penalties to stop the illegal sales of guns between state-to-state and international jurisdictions.
Later today, MomsRising will be joined by One Million Moms for Gun Control in delivering Valentines to Congresswoman Carolyn McCarthy of New York as well.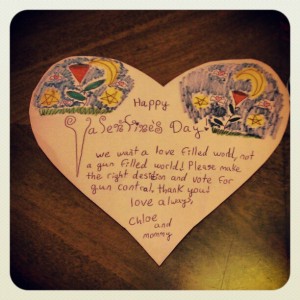 Earlier this year, MomsRising helped to collect nearly 300,000 signatures on a petition urging Walmart to stop selling high-capacity magazines and assault weapons, like the Bushmaster AR-15 which killed 20 children and six teachers at Sandy Hook. The organization joined several other nonprofits in delivering those petitions to the Walmart in Newtown, Conn.
The critically acclaimed World Children's Choir, led by Artistic Director Sondra Harnes, has been singing for peace and serving as a voice for children's interests since 1990. Members of the group range in age from four to 17.
MomsRising's use of space at the Lutheran Church of the Reformation does not indicate endorsement or sponsorship by the church.