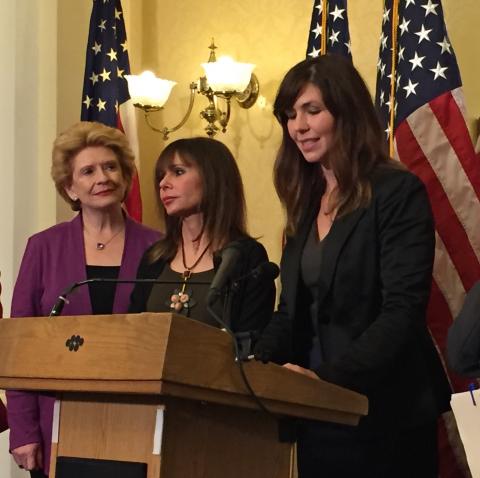 Moms Are Speaking Out for Health Care! Natalie from North Carolina #ProtectOurCare
Today, MomsRising volunteer, Natalie, spoke on Capitol Hill about why quality, affordable health care coverage is important to her family and our country. Here is her powerful story:
"When my husband and I decided to start a family nine years ago, we were excited about our future and never even considered the possibility that our child would be born with numerous complications – also known as "pre-existing conditions". Ever since Sophia's birth, we've learned to be her voice and her advocate. Sophia requires constant care. Her condition has robbed her of the ability to walk, talk and do anything for herself. She's had countless hospitalizations, 21 surgeries, daily therapies and frequent doctor's visits. She suffers from daily seizures, tremors, Type 1 Diabetes and an immune deficiency, just to name a few. At just 8 years old, she is the strongest human being I know and has the sweetest spirit I have ever seen.
My husband has a great job, works full time & our family has private insurance. Despite that, it doesn't cover our daughter's in-home nursing, life saving medical equipment or portions of her life saving medications. Thankfully, my daughter receives secondary insurance through Medicaid's Home and Community Based services. This amazing program helps cover the many costs that private insurance won't and allows us to have a hospital-style setup in Sophia's bedroom, so that she can remain safe and cared for in our home.
Not only would the AHCA put this program at risk by reducing funding for Medicaid, it may also allow states to get rid of the protections for those with pre-existing conditions that families like mine rely on to be able to afford insurance. Lifetime maximums and caps could come back -- and for some medically fragile children, they could hit their maximum limits within the first year of their life. What happens to these children and their families when they lose health insurance? Simply put - these changes are the difference between life and death for our medically fragile children. Families would be forced to make the awful decision to institutionalize their children, just to keep them alive. Not only is institutionalization devastating for children and families, but it also costs more than home- or community-based care.
Many families with medically fragile children are faced with unimaginable challenges. They do not have the means to speak out, which is why I, along with two other warrior moms, have co-founded Advocates for Medically Fragile Kids NC. We are fighting for ALL families and their medically fragile children too!
I have fought for Sophia's life since the day she was born. I know that one day I will lose her to one of her conditions. My heart will be absolutely shattered when that day comes. But if I lose my sweet Sophia because our government decided her life wasn't important enough to protect, well that, THAT will destroy me. It is a senseless tragedy no parent or innocent child should EVER have to face."