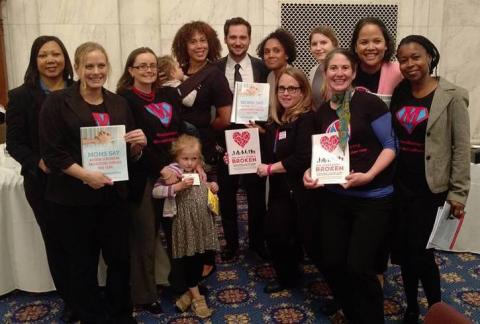 Momentum is growing for sentencing reform!
Inspiring.
Last week, celebrities, advocates, and clemency recipients descended on Capitol Hill for a #JusticeReformNow briefing to talk about our country's desperate need to end mass incarceration. We then met with lawmakers and staff to deliver MomsRising's petitions on Justice and Sentencing Reform.
There are 1 million women behind bars or under criminal justice supervision, most of whom are mothers. Most women in federal prison are there for nonviolent, drug related charges. Women like
Amy Povah
, who was just 30 years old when she was sentenced to 24 years in federal prison for a drug manufacturing crime committed by her husband. Amy's predicament was far from rare. There are thousands of others like her in America, people who have received outsized sentences despite very minimal connections to the crimes of others. This happens because some of our current laws give broad discretion to prosecutors and little discretion to judges in the form of mandatory minimums. The Sentencing Reform Act is a step in fixing that!
THANK YOU to all who signed on to our petitions, encouraging our elected officials to roll back the incarceration industry in America and to fix the broken sentencing system that fractures families. We are living in a time when more than
2.7 million children
in the U.S. have an incarcerated parent and approximately 10 million children have experienced parental incarceration at some point in their lives. We can and must fix this.
Your voice is powerful! Do you know someone like Amy? Please share your comments and stories with us about why this issue is important to you!
It's hard to believe, but there are still many people on Capitol Hill who don't understand what is wrong with our criminal justice system. When you share your voice, lawmakers listen. It's critically important that our legislators understand how bad policies are affecting families in communities across the country.
We'll compile a message book for lawmakers with the voices of supporters and of families adversely affected by our broken system. Supporters like Randy, a MomsRising member in Florida who wrote:
As a volunteer mentor with young men who are trying to improve their lives, as well as children who have had parents incarcerated, I have seen first hand how unnecessary and inappropriate punishment affect people and their families. There are serious criminals who have committed horrible crimes who need to be in prison, but there are so many who are unfairly penalized either unjustly or for minor infractions which snowball from lack of funds for restitution into jail time, loss of jobs, and separation from families.
Zina, a MomsRising member in California, wrote:
l am a mother who lost my son to the system. I was a single parent doing the best I could. He is serving a 22 year sentence. He is now in solitary confinement. I haven't held him in ten years.
Raise your voice now for Justice and Sentencing Reform! Share your story or message now.