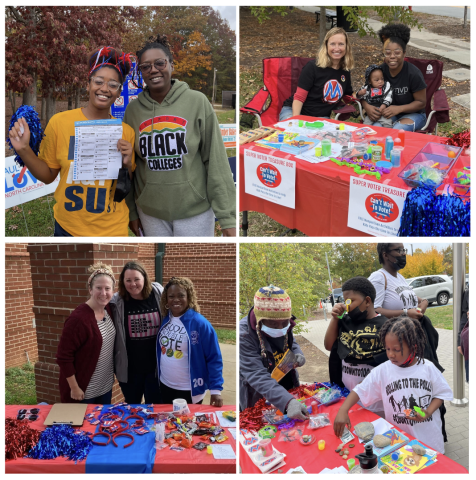 1 day! 1 day left until Tuesday, November 8th, the official Voting Day this year. So many people are voting this year with data showing more early voters than expected already—and we've come this far because of you!! You have helped make happen:
6,290,722 TEXTS & PHONE CALLS to low frequency voting moms!
1,642,888 POSTCARDS sent to moms (nearly a million hand-written)!
64,460 VOLUNTEERS stepped forward at MomsRising to help get out the vote!
30,154,042 REACHED on social media in English and Spanish!
And now we're going to ask you to do one more thing with one day left: Make a plan to vote yourself before the close of polls tomorrow, Tuesday, November 8th – and get 5 more people in your life to vote, too! (Okay, that's two more things, but getting out the vote this year is critically important!)
→ Did you get a chance to vote and make your voice heard yet? If not, we've got you covered! You can look up where to vote locally in-person, or where to return your ballot, here: https://momsrising.org/vote22
Our link lets you simply enter your street address (no email required!) and then you'll get all the local information you need about where you can vote in-person, by dropbox, or other near you.
And our link is sharable! You can take a moment now to either forward this email with the link to find out where and how to vote to 5 friends, or to copy and paste and then text the link to 5 friends, or to post the link on social media and tag 5 friends – or even write it on a piece of paper and pass it to 5 friends! The key thing here is that there are likely 5 people in your life who need the link to find out where and how they can vote, too. And you giving 5 people in your life the link will help get out the vote! (Thank you!)
*Here's the link again so it's easy to copy and paste to share with 5 other people: https://momsrising.org/vote22
Moms across this country are busy lifting democracy—and the energy of MomsRising volunteers has been helping to build a movement, confirming what we've known all along, that moms reaching out to other moms is one of the most powerful forces in the world. Together, so far, we have sent 1,642,888 postcards to low frequency mom voters, 6,290,722 texts with voting information to fellow moms, and we've had a social media reach of 30,154,042. But that's not all, moms are being Beacons of Hope in local communities helping to get out the vote, including by meeting moms at voting locations with small toys and games for kids so voting with kids is fun for everyone. From years past, we know that connecting like this on multiple fronts with other moms increases their likelihood to vote significantly. Suffice to say we are an incredibly powerful force together!
In fact, together, we've already made a wave of difference, and we have one last request for help from you: Please be sure YOU vote and that your friends and family vote, too.
*Here's the link again to get your local voting options so you can get your vote in by the time polls close tomorrow, Election Day, Tuesday, November 8th. (Please share this link far and wide – and with 5 specific friends, too!)
*Having a plan to vote helps things go smoothly. Make sure you know when and where to go tomorrow. And to make voting fun, bring kids so you can be a voter and raise a voter. If you'll have kids in tow, here are some crafts, activities, and ideas for you to help keep kids engaged while you vote to make voting fun for everyone!
→ Pass it along! (You'll sleep better tonight!) Do you have 5 friends and family that maybe haven't voted? Is there even a little chance they haven't voted or don't have all the info they need to vote? YES? If so, here are some super easy ways to share that handy link with your 5 friends and family on social media so they can find out where to vote in-person, by dropbox, or other near them: 
Can we count on you to reach directly out to 5 friends or family members to make sure they vote? Just forward this email and our voter info link. https://momsrising.org/vote22
Thank you for being an incredible, nation-lifting force for democracy. And most of all, thank you for being a voter in 2022! We couldn't be more honored to be in this with you.