MOM VICTORY: USDA says healthier school snacks are on the way!
In a match up between moms and junk food, the USDA has weighed in, and...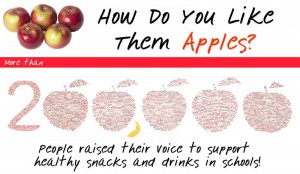 MOMS WIN!
You did it! Moms raised their voices and were heard. Healthier school snack choices for kids are on their way! Take a quick moment to sign our thank you note to the USDA for listening to moms and backing Smart Snacks now by clicking here.
The USDA recently announced that it will put in place updated nutrition standards for snack food and beverage items sold through school cafeterias, vending machines and snack bars so that kids will have healthy options for snacks in schools.
Moms are a powerful force. Thanks to you and the more than 200,000 people who spoke up for stronger USDA standards, children across the country will have healthier snack options at school.
We know that 40% of students buy and eat snack foods at school on a typical day. When schools sell mainly unhealthy snacks and drinks outside of meals, it can cause kids to eat less of their lunch, consume more fat, take in fewer nutrients, and gain weight. Now healthier snacks will be available in every school and kids will have the opportunity to make healthier choices. So, children are the real winners!
Spread the cheer by signing on to our quick thank you note to the USDA for listening to moms and standing up for kids! Sign on to our quick thank you note to the USDA here.
A new poll commissioned by Kaiser Permanente, shows that 90 percent of Americans want K-12 schools to have a role in reducing obesity in their community. In fact, nationwide, 78 percent of parents think that healthier food in schools will increase academic performance.
Healthier policies work. A few years ago, the California state legislature put in place some of the strongest guidelines in the country on snack food sold in schools. A study found that following that change, kids ate and drank 158 fewer calories per day. This is great news for moms and dads in California because children who are overweight or obese are more likely to suffer from Type 2 diabetes, high blood pressure and heart disease. The USDA's decision is a big deal!