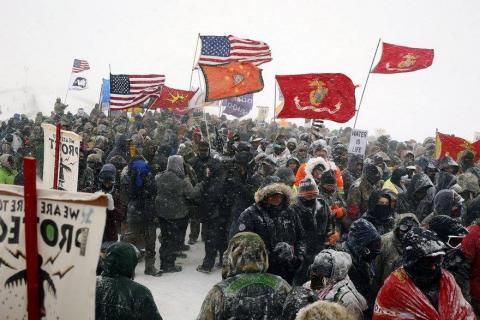 #MilitaryMonday: Why I'm Standing Up at the Border
The value of service was instilled in me from birth. Both of my Grandfathers fought in World War II, one in the Army and one in the Navy. My Father is a former Marine, and my Uncle served 21 years in the Navy. My cousin and my nephew have all served, my family can trace our service back to the Colonial War. I'm a former Life Guard, Firefighter, and an EMT, so for me military service was the next logical step. 
Standing up for others is also a central to who I am. I was bullied until my freshman year in high school when I grew and added 30 pounds of muscle. Empowered to fight back, I then started watching out for others and stepping in when I saw bullying. As I see it, the illegal treatment of asylum seekers and migrants at the border is just another form of bullying, and now I'm just doing what I've always done, standing up for those who need a hand, and my work with Veteran Service Corps (VSC) gives me an effective way to do just that.
Veteran Service Corps is a 501(c)(3) nonprofit organization dedicated to building an equitable world through maximizing the training, education, experience, and talents of the veteran community.  VSC volunteers support a mission of fostering human and civil rights, facilitating sustainable solutions which improve all communities, providing infrastructure to address complex systemic problems, and improving the capacity of one another through comradery, teamwork, and service.  
VSC leadership rose from the veteran action at the Standing Rock North Dakota Access Pipeline protest in December 2016. There we realized the significant impact veterans can have on civil, human, and environmental rights through dedication and organization. It was at Standing Rock where we remembered the feeling of purpose and selflessness we knew during our active duty service. Working with veteran colleagues built camaraderie and a passion to serve the greater good, both providing spiritual healing for many participants.  Since Standing Rock, VSC has partnered with the Cheyenne River Sioux Tribe on community service projects while preparing for our next call to action requiring the collaborative efforts of our volunteers.
Which brings us to the current human rights crisis at our southern border. Refugees have been unlawfully refused access to ports of entry; these same refugees have also been detained and separated from their children. Evidence suggests these atrocities are continuing to happen to the present day.  Veteran Service Corps believes that such action is immoral and threatens the freedom and safety of all people, as every human should be allotted basic human decency, especially when fleeing areas of extreme violence. 
We are actively engaged in responding to this crisis through our network of volunteers on a local and national level, doing what we can to ensure the powerless do not stand alone in their greatest time of need. This two-pronged approach allows for participation as each volunteer's life allows. 
Locally, VSC volunteers are participating in protests at ICE offices, along with peaceful actions which will continue to bring attention to the situation.  A national petition to be presented to elected officials has been created and is gathering signatures every day. Presently we are evaluating how our experience in humanitarian observation and humanitarian support may be utilized at the border to address the American Indigenous Refugee Crisis. 
VSC asks you to stand with us, become agents of change, and to extend a helping hand to those in need. With the United States currently being carefully examined by the global community, VSC is committed to providing an example of the true embodiment of American spirit. While we are not perfect, we can strive to be a true beacon of light which refuses to turn away those in their time of need without due process.
We are calling on veterans, military families, and civilian allies to assist in taking action to address the refugee crisis both locally and nationally.  We invite you to join VSC in addressing the American indigenous refugee crisis in whatever manner you can. We are in this together; VSC is committed to ensuring no citizen of Gaia is refused an empathetic voice, the comfort of knowing their children are safe, and a chance to fulfill their dreams in a just society.
To learn more about VSC visit us at www.vscamerica.org