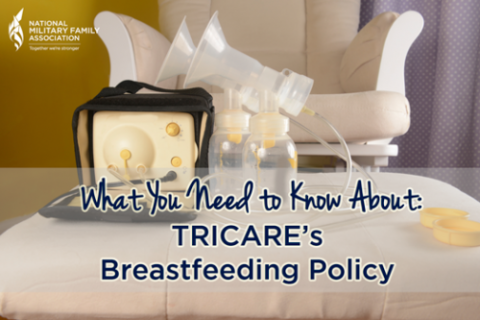 #MilitaryMonday: TRICARE's Breastfeeding Policy—A New Mom's Experience
Recently, TRICARE implemented a new breastfeeding support policy including coverage for breast pumps. The National Military Family Association is generally pleased with this new policy because it gives families flexibility in terms of when, where, and how to purchase breast pumps and supplies.
But we wondered how this policy is panning out in military communities as families try to use it. So we asked Jaclyn, a Fort Benning Army Spouse, while she was expecting her first baby. Jaclyn had just purchased a breast pump.
"I heard about TRICARE's new breast pump policy from an online moms group.  I called TRICARE even before the policy went into effect and they were able to answer some of my questions.  They were at least aware that the policy would go into effect on July 1, 2015.
Back in August, I started to think about buying a pump again, so I needed to learn about the process for getting a pump covered by the new policy. At that point I was only seeing my midwife once a month for appointments.  I wasn't sure if I would need to get a prescription before buying the pump. I checked my online Army Moms group and saw a post about how to buy a pump at Target so I decided to give that a try.
I called the 800 number for the Target breast pump program. They collected some basic information about me and my TRICARE coverage and then they took it from there. They sent me an email with three choices of pumps that would be fully covered by TRICARE. They also provided some options where I would have to pay part of the cost out of pocket. I chose the Medela In Style Advance (retail price approximately $200 at Target.)
It turns out that I didn't even need a hardcopy prescription – Target followed up with my midwife directly to get the prescription. Target emailed me with a list of locations where I could pick up the Medela pump. I chose one and went to the store. I stopped by the Target customer service desk and the pump was there waiting for me.  I didn't have to pay anything given the pump I selected!
My experience was pretty easy, but my friends on TRICARE Prime seem to be having a more difficult time. Some of them are having trouble getting a prescription from their OBs. It seems like Pediatricians are more aware of the policy and will provide a prescription without a problem. 
How does Jaclyn's experience compare to yours? What worked well and what did not? Share your story with us in the comments section below.
And don't forget about lactation counseling! We talked with Jaclyn while she was still expecting, so her story doesn't touch on breastfeeding counseling. Have you tried to use TRICARE's new coverage for lactation counseling?
Your stories will help us understand if TRICARE'S new breastfeeding supplies and support policy is working as intended.  Thank you for helping us advocate for military families!
This post is written by Karen Ruedisueli and originally appeared on the National Military Family Association's blog, Branching Out.