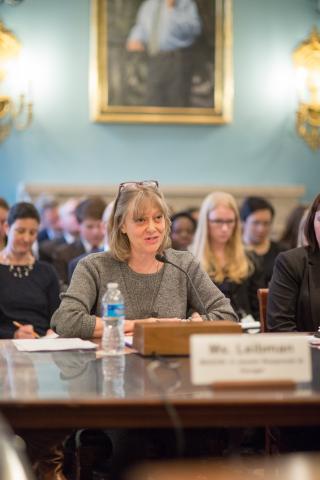 #MilitaryMonday: The Shocking Truth of Military Families and Hunger
"That's shocking!" "That can't be true!" "Why are you shaming the U.S. military?" "We have to do something!" For the past several years I have heard such comments over and over again, each time I raise the issue of hunger among currently serving military families, or share the chilling statistics about the number of veterans who struggle with hunger in America.
While I'm not surprised by the depth of emotion stirred by this issue, I am always dismayed when people steadfastly refuse to accept that this is a shameful reality in our country.  That dismay becomes outrage when such denials are voiced by our policymakers.
Armed with a great deal of patience and determination, MAZON set out to uncover more data, find the policy barriers that contributed to food insecurity among military families and develop a strategy to remove those barriers.  We launched our Help Our Heroes initiative after our partners (food banks, food pantries and anti-hunger organizations) voiced concerns that a growing number of military and veteran families were seeking food assistance. Those who make significant sacrifices for our country should never struggle to put food on the table.
We've been leading the national effort on many different fronts: with the Department of Defense, with the USDA, with the VA, with Congress and with the White House.  Our goal is to remove the real and perceived barriers that prevent veterans and currently serving military families from accessing vital food assistance through effective programs such as SNAP . (Learn more about MAZONS's work in this area) 
In January, I was honored to have been called before Congress to testify as an expert witness on the topic of hunger among military and veteran families and help shed light on this important but often-ignored issue.
Watch the testimony (Editor's note: video starts at the 12 minute 10 second mark) or read my full testimony here. MAZON also asked Erika Tebbens, a former military spouse who struggled with food insecurity, to join us at the hearing.  Erika's emotional remarks drove home how deeply families are affected by these challenges.  You can read her testimony, as well as other stories here.
This #MilitaryMonday, we hope you join us in standing up for military families who are struggling to put food on the table.
My Testimony Before the House of Representatives:
Distinguished members of the Subcommittee on Nutrition and Committee on Agriculture, thank you for the opportunity to testify before you today.
I am president and CEO of MAZON: A Jewish Response to Hunger, a national nonprofit working to end hunger among people of all faiths and backgrounds in the U.S. and Israel. 
In response to learning that a startling number of our grantee partners were providing food assistance to a growing number of military families and veterans, MAZON's board of directors has made these issues a core priority for our education and advocacy work.  Through an exhaustive search for accurate data from government and private sources, we learned the following:
First, we found that hundreds of thousands of veterans are experiencing food insecurity, and aren't receiving assistance from their Supplemental Nutrition Assistance Program (SNAP) or other available benefit programs. 
Food insecurity among veterans — old and young — is nearly double the prevalence of food insecurity and very low food security among the general U.S. population. 
Second, we also uncovered serious indicators of food insecurity among members of the military who currently serve. 
The causes? Low pay among lower-ranking enlistees, high unemployment among spouses, larger household sizes, challenges around activation and deployment, and unexpected financial emergencies. 
How do we know this? In addition to reports from our colleagues' operating food pantries, MAZON learned from a source at the Pentagon that there are food pantries operating on or near every single naval and Marine base in the United States. There can be no denying that food insecurity among military families is a painful reality.  
There are three important actions that we urge Congress to take now to begin addressing this growing problem:
Demand more data. Despite strong anecdotal evidence, food insecurity among military families is not adequately documented or monitored by government agencies. What data we have been able to secure are often contradictory, out of date or simply incomprehensible.
No one really knows the military and veteran participation numbers for government nutrition programs, let alone estimates for the true level of need in these populations. Accurate data is essential if our nation is to better understand the scope of food insecurity among military families and allow us to find the gaps and provide meaningful solutions.
Make no mistake: If even one military family goes without adequate, nutritious food, this nation is not meeting its responsibility to those who serve our country.  
But data alone is not the answer.
Congress must act to remove policy barriers. Federal policies are actually denying struggling military families the resources they need to prevent food insecurity.
Including military members' Basic Allowance for Housing (BAH) as income when determining eligibility for SNAP is not only inconsistent with the treatment of BAH by other federal programs, it has made thousands of struggling families ineligible for vital SNAP benefits. In order to survive, they are turning to food pantries on and off military bases.
The BAH is excluded as income for the purposes of calculating income taxes and eligibility for Women, Infants and Children and Head Start programs. The BAH should be consistently excluded as income for the purposes of determining eligibility for all nutrition assistance programs. 
We urge agency collaboration. For veterans, this is not only essential; it is becoming a matter of life and death. A growing number of veterans — particularly disabled veterans — are caught in the middle of bureaucratic delays and federal agency silos, unaware of or unable to access nutrition assistance benefits despite their obvious need.
For veterans awaiting a disability determination, delays and multiple appeals are commonplace, with the process lasting almost a year in some communities. During this time, these men and women are unable to access nutrition assistance benefits and have literally nothing to eat.
What can we do? We can start by ensuring that the government agencies charged with caring for these people actually communicate with each other — VA social workers can use a simple food-insecurity screening tool and refer those who screen positive to resources that support access to adequate, healthy food, including SNAP. 
Perhaps the best way to prevent hunger among veterans is to protect and strengthen the SNAP program.  Right now, an estimated 60,000 veterans face the loss of SNAP benefits because of the expiration of the time limit waiver for people classified as able-bodied adults without dependents, known as ABAWDs. Cuts to SNAP hurt millions of Americans, including, military families and veterans.
This reality of limited data, unfair policy barriers and bureaucratic silos comes at a time when the need among military families and veterans has never been greater. 
The principle of leaving no one behind is deeply embedded in the ethos of the United States military. Unless Congress acts now, we are surely leaving these families behind and in the enemy hands of hunger and poverty.    
If not now, when? If not you, then who?
MAZON welcomes the opportunity to work with Congress to create lasting and meaningful change to meet the needs of our military and veterans' families. Thank you.