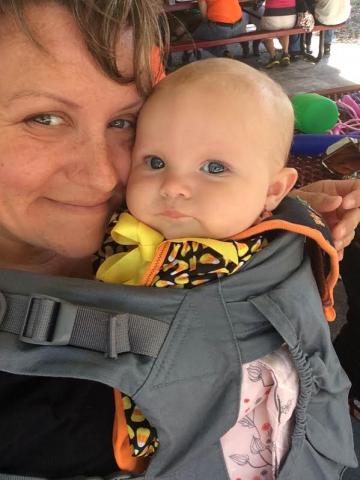 #MilitaryMonday: The Carrying On Project
A few months ago, a woman I really respect both for her parenting style and her honesty was featured on this site as part of #MilitaryMondays, which is how I first discovered it. Her piece about how babywearing makes her a better parent and helped with depression spoke to me, especially because at the time I was dealing with a recent diagnosis of depression myself, and am also a mother, military wife, babywearer, and former active duty service member (Marine Corps. OOHRAH!). Like Kati, I turned my need and later love for babywearing into a passion, helping people whenever I can, first as a babywearing educator and then also as a co-founder of a nonprofit organization called The Carrying On Project.
A little under 3.5 years ago, a friend and fellow babywearing educator and I sat with our kids after a meeting, the first one I'd gone to since my husband had left for yet another deployment. My nearly six month old was asleep on my back while my 2.5 year old slurped down a "kids latte" (warm milk) and we stared at my computer, deciding that we wanted to help get baby carriers into the hands of as many military families as we could. As I write this, I am sitting on my deck waiting on a delivery of nearly 1,000 carriers from an amazing and well-loved babywearing company (Maya Wrap) thinking about how far we've come.
We had our first break out event on March 17th, 2013, which we now celebrate as our birthday, because it was our first time being able to do what we love: on that day, we distributed 50 baby carriers to new and expecting moms, including spouses of active duty, active duty mamas, wounded warrior moms and spouses from Walter Reed who were attending an Operation Homefront Star Spangled Babies shower. Since then, we've given away over 6,300 carriers to low-income military families, veterans, and wounded warriors through Operation Homefront events and our application process through our website.  We work with large carrier companies and small, knowing that every carrier fits people differently and having access to as many types and styles as we can makes us more valuable to our recipients.
  Babywearing is beneficial to all families and all children, but the need for military families can be paramount. During frequent deployments, trainings, and separations the caregiver who remains at home finds themselves needing more tools in their parenting toolbox, including the ability to hold, rock, feed, or otherwise comfort a child (or two!) and have their hands free to accomplish daily tasks including laundry, food prep, and caring for other children. For me, my first daughter was colicky, and her father left for Iraq when she was ten days old. A baby carrier allowed me to make meals for myself, grocery shop, walk my dog, and even travel through an airport with only a backpack and a suitcase.
One of the other benefits of babywearing for military families is more focused on the service member. Babywearing can help someone who is frequently away bond with their child before and after their absence, and also can help those who for some reason or another cannot use both of their arms to hold a child, whether it be a back injury, arm or shoulder injury/loss, or a person in a wheelchair who must use both arms to mobilize. A baby carrier offers a safe, secure place for the child not dependent on limbs so that they can bond, be comforted, and my daughters' favorite, "(s)nuggle!"
In addition to carriers donated by companies, we also receive individual donations from supporters, or are able to purchase them at great bulk discount from other manufacturers. We have been very lucky to be able to set up booths and collection points at events local to installations (run by our fabulous volunteer team, but more on them in a second!) and also larger events like MommyCon, a parenting conference held in several locations every year, and The International Babywearing Conference, held every two years in various locations around the U.S. At the events and in our online store, we sell merchandise and accept donations of both carriers and money. We spend nearly $12,000 in shipping alone in a year, so every bit helps! Our next in person booth will be held at WEAR in Chicago on Memorial Day weekend, and we would love to meet you if you happen to be in the area.
There is one other program that TCOP runs kicked off about a year ago, and this is where our fabulous volunteer team comes in. We have 36 women who host quarterly (or more often) events at 26 installations around the U.S. and overseas, as well as in cities with large military or veteran populations. Moving is hard, and military families do it on average every 2 years, sometimes more. The goal of these playdates is to help bring like-minded families in similar situations together to create a place where they will be able to find friends and playdate buddies, because moving often can make the world a very lonely place. These events are listed on our website, shared on our facebook page, and many have their own local pages to help keep caregivers connected between events. No one is meant to go at this military life alone, and while our servicemembers have their units and their brothers and sisters in arms, so should our spouses have a family they can count on.
If you would like to donate to The Carrying On Project (a recognized 501c3 organization) or find out more about our events, check out our shop, and see what's new, please visit www.carryingonproject.org or join us on facebook.
If you are interested in joining our volunteer team, please contact Kit at Kit@carryingonproject.org or submit a message through our website.