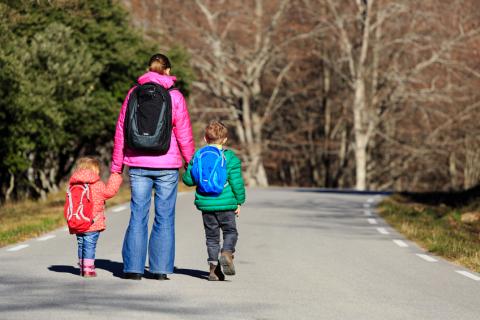 #MilitaryMonday: Missing the Bus but Not Missing the Moment
I drove my son to school today because he missed the bus . . . again. Although that menial and tedious task certainly had not been a part of my plan for today, one of the things I value deeply in this unpredictable life is trying to make the most of unexpected moments.
So as I sat next to him in the warming car on this cold winter morning, I began to rehearse all the ways that I could explain to him the long-term benefits of practicing punctuality and proving responsibility. About halfway into what I considered a very convincing spiel, I glanced over to make sure that he was buckled up and receptively absorbing this wisdom. Instead, I paused as I noticed the sun rising to my left reflecting a golden glow off of the downward cast face of my 15-year-old son. He was obviously embarrassed that he had missed the bus once again and was just simply enduring his deserved lecture as any captive audience would. I had to stop and ask myself, I may be right but was I making an impact in this unexpected moment we were now fatefully sharing?
I had tried this same stern reprimand many times before. I had also tried the gracious encouraging "do better tomorrow" speech before too. Both with apparently little success. So in that moment I decided to try something different. I attempted to reengage him by asking, "In the grand scheme of things, what will be the impact of this isolated moment?" He glanced at me sideways with a hint of surprise and then furrowed his brow slightly before replying, "I guess nothing." After placing that temporally bound incident so clearly in perspective, I continued "True, unless you choose to embrace it's potential. So how could we intentionally create a lasting impact in your life using this specific moment?" I could see his eyes flicker as he rifled through all the responses that I am certain he wished would get me to stop my "lecture." Yet after several minutes the thoughtful silence was still stagnant between us.
Using this silence to my advantage, I evaluated precisely how a myriad of present choices could be linked to a plethora of future possibilities before settling on this revelation, "An impact is only made when an isolated experience is interpreted in a way that ignites change. I am your mother who loves you with a relentless love. I will be vigilant in telling you all the reasons why you should implement new strategies for success when I believe you are at risk of failing. But until you decide that there is some wisdom in my words that warrants weighing - even if you eventually decide you disagree - then you will not allow this moment or our conversations to ever have the impact that they could. So I guess the better question may be - How will YOU intentionally use this moment to make an impact on YOUR future?"
Honestly, the thoughtful look on his face was enough affirmation for me in that moment because that is how true change is created. It is not one significant moment in time that will alter the entire course of this young man's life. Instead, it is the accumulation of thousands of moments just like that one. I am so grateful that the sun caught my eye this morning and I didn't let it pass me by. Now I ask you, dear friends, what are you doing in THIS moment that will impact YOUR future?