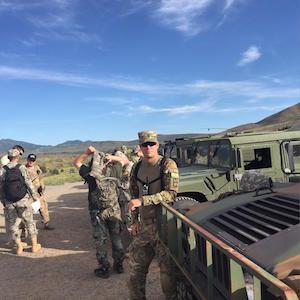 #MilitaryMonday: It's time to raise up Washington
Grilling burgers. Family and friends. Watching fireworks. That's what usually comes to mind when people think about the Fourth of July, when we come together regardless of background or politics and celebrate our nation's independence.
Many of us also think about our brave men and women in uniform, and how we can better serve the people who served for us after they return home. 
Here in my state of Washington, we have the opportunity to improve the lives of thousands of veterans in November by passing Initiative 1433, the campaign to raise the statewide minimum wage to $13.50 phased in over four years and give every working Washingtonian the opportunity to  earn paid sick and safe leave.
We know that nationwide, 1 million veterans would benefit from a federal minimum wage increase. And according to census data, there are 44,000 veterans living in poverty in Washington. For them, and so many others, raising the wage would help give them the opportunity to work without working themselves into poverty.
As a combat veteran from the war in Afghanistan, I know first-hand the challenges of returning home from war. I was lucky to have the time and space to manage the tough transition of returning to civilian life after living in a war zone.
But many of my brothers and sisters in uniform aren't so lucky. When a veteran working full-time at a minimum wage civilian job can't earn enough to provide for themselves and their family, or they don't have access to paid sick leave, they are forced to choose between getting the care they need or losing a paycheck — or worse, losing the job their family depends on.
These are brave men and women who deserve every opportunity to thrive when their service ends. These are people in our own community, people like my battle buddy Sergeant Aaron P. of Olympia, whose story I asked to share. Here's what he had to say about his experience:
"As a recently discharged veteran who suffers from Post-Traumatic Stress Disorder -- not only from my own experiences in combat but also from the loss of my brother to combat in Iraq -- having the ability to earn paid sick leave would allow me to get the care I need without being punished by losing a paycheck . My employer offers no paid sick leave and with the continued therapy appointments and anxiety attacks that I deal with, I run the risk of being terminated from my position if I miss work. Having the flexibility of paid sick leave would provide me with much greater peace of mind knowing that when I am not at my best, or dealing with an illness or mental health emergency, I could communicate that to my employer and not risk losing the job I depend on."
Across our nation, 20 cities and 4 states have passed earned sick days. Red and blue states alike are raising the minimum wage. The data from these early states is in: raising the wage and passing paid sick and safe leave is good for our workers, our families and our economy.  It's a win-win-win.
That's why so many people have joined the coalition to pass Initiative 1433 — unions and workers, community organizers and faith leaders, business owners, working moms and dads, and yes, veterans.
Initiative-1433 will improve the lives of millions of people in our state, including thousands of veterans and their families. Together, we can raise up Washington so that workers and their families can thrive.