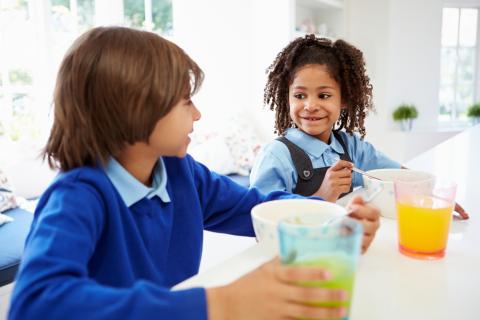 #MilitaryMonday: Helping Kids Get the Foods They Need To Grow Up Healthy and Strong
Feeding our children is one of the most basic responsibilities of every parent. It is an act of culture and an act of love.  As both a mother and a pediatric gastroenterologist, I am involved in the world of food, feeding, and nutrition, not only at home but also at work.
I am also involved in advocating with lawmakers. As a doctor who helps children with nutritional issues, I know that sometimes having the medical answer alone isn't enough. Sometimes it takes writing a new law to help kids get the foods they need to grow up healthy and strong.
Some children aren't able to enjoy or digest the food everyone else is eating. There are several medical conditions of the gastrointestinal and liver systems that prevent children from having a "typical" diet. These can range from kids with multiple severe food allergies to teenagers with inflammatory bowel disease to premature infants with liver disease to children born with rare genetic metabolic conditions.
These children often need very specialized formulas that provide crucial nutrition in a way that can be safely digested. It makes sense that what we put into the gut will be part of the treatment of diseases of the gut and digestive systems. In these cases, special formulas, vitamins, and foods are not just sensible choices, they are actually critical parts of the medical treatment plan. As such, we call them "medically necessary foods" or "medical foods."
Unfortunately, while these medical food treatments can be life-saving, they are often very expensive and sometimes insurance doesn't help cover their cost. Advocating for our patients who have insurance access challenges isn't new for us at Children's Hospital Colorado. Just this past year, our team of physicians advocated successfully to pass state legislation that requires private health insurance companies to cover medical foods. However, this law does not apply to any of the thousands of children in military families across our state or the rest of the country because military insurance is a separate, federal program called TRICARE. For families who serve in the military and have insurance through TRICARE, there can be major hurdles in accessing medically necessary medical foods.
I work in Colorado, which is the proud home of Fort Carson Army Base, Peterson and Schreiver Air Force Bases, and the Air Force Academy. Unfortunately, this means that my colleagues and I frequently encounter challenges with TRICARE insurance coverage for our young patients who need medical foods.
One particular patient stands out in my mind: a two-year-old girl, whom I'll call "Molly," with multiple (10+) food allergies and an allergic condition called eosinophilic esophagitis. Her father serves in the U.S. Army and her mother is the primary caregiver for Molly and her siblings. My patient failed to gain weight on the foods and beverages she was allowed to eat due to the number of restrictions in her diet from allergies. I prescribed a special hypoallergenic formula to give her extra calories, vitamins, and protein; she soon gained weight, grew in height, and her condition improved with his formula. But each can of formula cost $60, and she needed one can every three days. This cost her family $600 each month in formula alone.
We petitioned TRICARE to cover the cost of the formula as part of this child's care. We were denied. We wrote letters, spoke to insurance representatives, appealed several times, and yet were always turned down. We were told that TRICARE "doesn't pay to feed kids."
Military families with kids needing medically necessary foods across the country will find this story familiar, and unfortunately, as a health care provider it is also a common story that I hear from my patients and their families. This struggle has been going on for a long time, and it can leave everyone feeling helpless and frustrated. Families have had to choose between paying for critical formulas for their kids and paying other equally pressing bills. That's why we as a children's health provider knew we had to act in support of our military kids and families.
This year there is a chance that we can change this pattern and get kids with these medical conditions the nutritional therapies they need to grow up healthy and strong
Here is the situation: Congress has to pass its National Defense Authorization Act (NDAA) every year, and this bill includes funding and instructions for TRICARE insurance. This year, health care and family advocates from around the country have worked hard to make congressional leaders aware of TRICARE's inadequate coverage of medically necessary foods. Together we have asked that the NDAA include new requirements that TRICARE cover medically necessary foods for specific gastrointestinal, liver, pancreas, and metabolic disorders.
We were successful in getting this language in the Senate version of the NDAA but it was not included in the House version.
To pass a law, the language from the House and Senate bills must match, so this fall members of Congress and their staff are working hard to resolve the differences between the two versions.  A vote is expected soon. This is where YOU come in! We need your help making sure that Congress hears from us about the importance of including the SENATE language to ensure that TRICARE covers medically necessary foods in the final law.
HELP MILITARY CHILDREN AND FAMILIES BY TAKING ACTION TODAY! If you would like to help military families like Molly's get fair access to the medically necessary foods they need, ask your Member of Congress to support the military families in their state by adopting the Senate language. You can quickly and easily email your members of Congress here.
To read the specific language from the Senate that we hope to have in the final legislation, please click here.