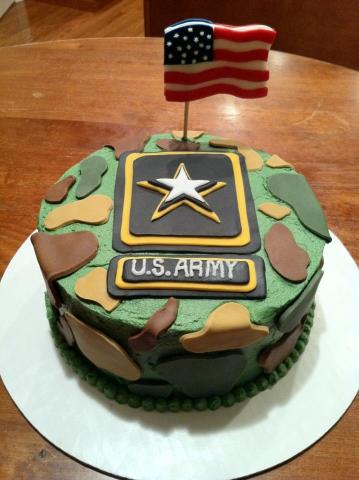 #MilitaryMonday: Army Birthday, More than Just Cake
Each time I tell my children they are attending an official ceremony, they immediately ask if there will be cake. They've quickly learned that Army ceremonies almost always include cake, even those that occur before most of the rest of the world is awake.
Army Birthday
The Army celebrates its birthday each June, coinciding with Flag Day. On June 14th, 1775, history tells us that John Adams requested that Congress 'adopt' the Boston troops as the US Army.  George Washington later took command of this army on July 3rd, 1775. For the last 242 years, the US Army has been proud to serve, and has celebrated each year. I'm not sure how many years they had cake, but I like to imagine George Washington cutting the cake in those early years, with his sword.
There are several ways that units and installations celebrate the Army Birthday. The dining facilities like to provide a nice meal for their Soldiers. There are several birthday balls around the country, and a huge one in Washington, D.C. Most installations have some sort of ceremony, though they usually start with a very early morning run, followed by …. You guess it. Cake!
Cake Traditions
My children have had cake at promotion ceremonies, changes of command, and retirements. Their experiences are somewhat limited, as the cake is usually cut and plated by the time we get there. But they enjoy the blue icing (military intelligence's colors are blue and silver) and then they run off and play with their friends.
One of my favorite things about cake at formal functions is the tradition of who cuts it, and with what. Tradition states that the oldest and the youngest Soldiers cut the cake. We see it time and time again, at balls and dining outs. It comes with a lot of heckling for the oldest, and awe that the youngest is really that young.
In 2014, Gen. Mark Milley, who was then the III Corps Commander, oversaw the cutting of the birthday cake, while the youngest enlisted service member and the oldest noncommissioned officer continued that tradition. At our unit's most recent event, they also used this tradition. The unit's Command Sgt. Major was the oldest there and the Master of Ceremonies scanned the audience for the youngest Soldier.
As we approach the 242nd Army Birthday, keep in mind all of the history that surrounds our military, and the sacrifices they make. As a darn proud Army wife, raising my three Army brats, I'm a sucker for tradition and ceremony. And for cake.