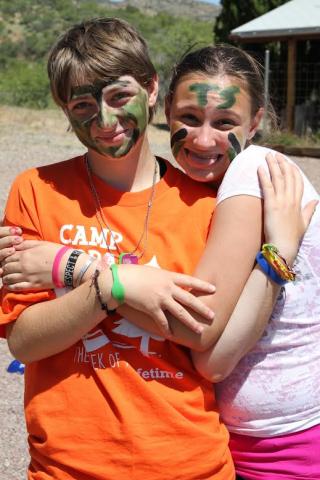 #Military Monday: Camp Corral
The lives of military families have changed dramatically since September 11, 2001. Unprecedented levels of deployment and an increased reliance on Reserve and Guard members mean that an estimated 2 million American children have had a parent who deployed in the last 15 years. This shift has also left many children with parents who have been injured, disabled or killed during combat.
Many of our camper parents tell us that they volunteered for military service, but their children were drafted. These children face unique challenges and make sacrifices beyond their years. They deserve a program like Camp Corral, which provides them with the opportunity to build supportive relationships and emotional resilience in a fun, safe and exciting camp setting.

Camp Corral was founded in 2010 by Golden Corral restaurant chain founder James Maynard and his daughter Easter. The idea of sending military children to camp as a way to thank their families and offer their kids a life-changing week away from home became a reality in 2011, when Camp Corral opened as a pilot, one-camp program.
Five years later, Camp Corral is now a 501 (c)(3) nonprofit with 21 camp locations in 19 states that provide "the week of a lifetime" to military kids, free of charge. Since our founding, we've served more than 10,000 military children from every branch of the military.

Any child age 8 to 15 from a military family is eligible to attend Camp Corral, but registration priority is given to the children of wounded, disabled and fallen service members. Many of our campers have experienced significant hardship in their young lives due to the long and complex recovery their parent faces, and without strong social support their behavior may reflect this. Research has shown that the complex set of injuries that many service members endured have an effect on their children, many of whom as a result are at a higher risk for adverse outcomes such as developmental delays, health issues, behavioral outbursts, and academic challenges. This risk diminishes when children with a wounded or injured parent connect with peers who have a shared experience. By attending a Camp Corral session, campers have the opportunity to build friendships with other kids who understand the unique challenges of having a parent who has been wounded or killed as a result of their military service.
Fun, learning, connecting with nature, and developing relationships—Camp Corral is all of these things and more. Not content just to give a free week of summer camp to deserving children, our staff and board are deeply committed to offering a world-class experience to each camper. All of our host camps are accredited by the American Camp Association or operate under its standards. Camp Corral carefully selects each host camp based on its top-notch activities and facilities, its proximity to children from military families, and the staff's commitment to providing a nurturing environment where every camper is encouraged and valued.
Because military children may face unique challenges, all host camp staff receive training on working with military families to help bring about the most positive, meaningful camp experience. Camping encourages self-reliance, a love for nature and the outdoors, and the development of attitudes and practices that build character and leadership—all amid the fun of canoeing, archery, talent shows and meaningful relationships.
In a recent survey of our camper parents, 98% said that their child made new friends and developed supportive relationships, 91% gained more self confidence, and 88% improved their ability to overcome challenges. This is consistent with published research that demonstrates a strong need for military-centric services to be expanded beyond military installations and embedded into the civilian community to improve access to care for families and children.
The need for programs like Camp Corral continues to grow. Last summer nearly 4,000 children were unable to attend camp because of a lack of funding. We're committed to increasing the number of children who can benefit from this unique experience.
For more information, please visit www.campcorral.org or email us at campinfo@campcorral.org.