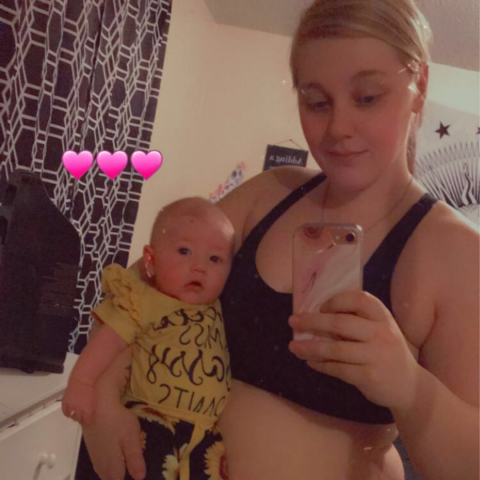 Member Spotlight: Robyn Boyles on The Importance of Filing Taxes by May 17th!
Monday, May 17th is the last day to file your taxes for the 2020 tax year! We spoke with Colorado MomsRising member and mother to a five-month-old Robyn Boyles on her story and why filing her taxes this year was so important to receive critical benefits that help support her family.
Robyn and her husband had been working as cooks in restaurants until the COVID-19 pandemic struck. The restaurants they worked at were hit hard and ultimately shut down, causing both of them to lose their jobs. This was a hard adjustment for her family, as they had to move in with her mother and it took a long time to save money to get a new apartment to call home. She also got pregnant near the beginning of the pandemic while simultaneously getting COVID-19, causing her to inject blood thinners into her stomach for weeks as COVID-19 can cause blood clots in pregnant women. Then, she gave birth prematurely and hemorrhaged because of the blood thinners. Her grandfather was also diagnosed with COVID-19, which almost caused him to die and left major memory issues that still affect him today.
The Child Tax Credit, a credit that provides up to $3,600 per child under age 6 and $3,000 per child from ages 6 to 17, helped save Robyn's family in the long run. Her family had to sell her truck to get a more unreliable car to make ends meet; "We had to make compromises and sacrifices to make things work." She heard about the expansions to the Child Tax Credit from the American Rescue Plan and knew she had to file her taxes to get the relief that would help her family. With the additional support of the stimulus payments and the tax credit, it helped buy clothes, a crib, and a more affordable apartment so they can provide for their baby.
"The stimulus checks helped a lot, and it would be nice to continue to get help since we're still in debt from last year."
Don't forget to file your taxes by May 17th! Even if you are a non-filer, you should file for the 2020 tax year to make sure you receive benefits like the full amount of your stimulus checks, and starting in July, you can receive advance payments for the expanded Child Tax Credit that helped families like Robyn's. Also, if you live in a mixed-status household, filing your taxes will NOT impact your immigration status - all the more to make sure to file your taxes! If you need free tax preparation assistance, check if there is an IRS-sponsored VITA site near you: https://www.irs.gov/individuals/find-a-location-for-free-tax-prep.