We Are MomsRising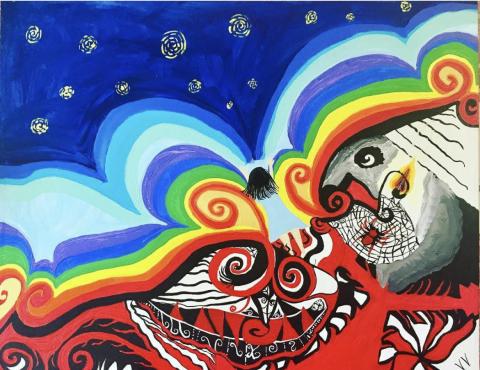 MEET VANESSA: "Being a Beacon Helped Me Heal, Gain Confidence"
"Being a Beacon has been like a stepping stone for me. I felt ready, that I was good enough, and it inspired me." - Beacon Leader Vanessa Vicario
Today's #WeAreMomsRising story comes from Vanessa in Pennsylvania. Vanessa is a Beacon Community Hub Leader, part of a network of volunteer organizers partnering with MomsRising to develop leadership skills, build mom power in their communities, and make change at the local, state, and national levels. To learn more about the Beacon program, email keepmarching@momsrising.org.
Why did you become a Momsrising Beacon?
I want to be able to make change and be an advocate…deconstruct the patriarchy. I have a masters in social work and being a Beacon is aligned with my mission in life to help others. 
Want do you want to accomplish as a Beacon? 
I'd like to get better at the grassroots stuff, like contacting and meeting with my representatives. Volunteering with Turning Point and MomsRising has helped me heal from trauma and gain confidence. They accepted me and that meant a lot to me. 
What's been one of your favorite activities as a Beacon?
Hearing the other women's stories, and how they succeeded in putting on events. I felt happy for them and inspired. 
What would you say to someone who is considering becoming a Beacon? 
If you care, and you want to make a change, do it! At first, I didn't know what I was doing. Being a Beacon has been like a stepping stone for me. I felt ready, that I was good enough, and it inspired me. I'm better. I'm involved with my community, doing all kinds of volunteer work, I even spoke at a vigil.  
MomsRising is definitely shining through me in this community. I'm proud to know that there is an organization called MomsRising. 
What are you good at? 
Making people feel certain emotions. When I did my speech at the vigil, I moved people. That's a superpower…giving people an experience of empathy. A lot of people struggle to have empathy for others. My expressiveness through poetry and artwork helps people feel, helps them heal, and want to help. 
What's your spirit animal?
It's an owl! I'm a domestic violence survivor and I've been taking a poetry class to help me. We do this writing exercise where you start writing and you have to keep the pen down on the paper and keep writing, no stopping. I discovered I had an affinity for owls through that. I used to be always up at night, and I'm always eyes on the prize. 
What do you find most challenging about the mom's movement? 
I live in a more conservative area. A lot of issues that I'm pushing for are more liberal. I'd like to meet more peers in the area, and I think we can get a little more accomplished. It's difficult to be alone on the issues when you don't have your posse there with you!
What are you looking forward to?
To see what happens next. To see where I end up. Things have been getting better every day.