Meet me at the Capitol in Austin Tomorrow (March 5, 10:00 am)!
I know first hand that Medicaid saves lives and reduces medical costs. When I was pregnant with my son, I went into preterm labor at 26 weeks. I had medical coverage through Medicaid, so when I noticed that something felt off, I went directly to the hospital.
Without Medicaid, I would have been reluctant to go to the hospital for fear of unnecessary hospital bills that I would have had no chance of paying. The folks at St. David's Hospital, here in Austin, were able to stop the early labor and my son was born full-term. Without Medicaid, I might have waited to go to the hospital until I was sure there was something wrong, and by then, it would have been too late. I might have lost my son, or in the best-case scenario, left the hospital with a very premature baby in the NICU and a lifetime of medical debt.
That is one reason why next Tuesday, March 5TH, at 10 AM I will be joining Texans from across the state on the Congress Bridge to march on the Capitol and stand up for Medicaid.
Will you join me? RSVP here: http://texaswellandhealthy.org/march-5/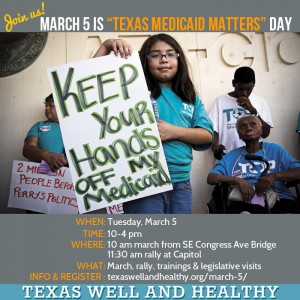 We need to be seen and heard now! Texas lawmakers are deciding right now whether the state will accept billions of dollars in federal funds that would allow 1.5 million currently uninsured Texans to have health coverage they need. The Medicaid expansion that would make this possible would also bring Texas an estimated $6 billion of annual economic benefit and many health care jobs. [1] Yet some Texas leaders are proposing leaving money on the table and people uninsured. We need your help to keep that from happening!
COME OUT ON MARCH 5th AND TAKE A STAND FOR MEDICAID! 
WHAT: Texas Medicaid Matters March, Rally and Advocacy Day
WHEN: Tuesday, March 5th 10 AM
WHERE: We will be meeting at 10 AM on Tuesday at the Congress Bridge and marching to the Capitol for an 11:30 AM rally.
Protecting and expanding Medicaid is the right thing to do. Neighboring Governors, in Florida, New Mexico, and Arizona have already vowed to expand Medicaid, because they recognize it as a cost efficient way to ensure the health and safety of their state. Medicaid protects children, the elderly, and people with disabilities; it also creates jobs and bolsters our economy. We need to protect the program that protects us.
RSVP here:  http://texaswellandhealthy.org/march-5/

I will be at the rally, so please feel free to email me at charlie@momsrising.org if you have any questions. I would love to have you there with me.
And please, share this post and invite your friends. Together we are a powerful force for moms and families here in Texas.
- Charlie and the whole MomsRising.org team
P.S. Check out this video for more information on Texas Medicaid: http://www.youtube.com/watch?v=b2pyVIRrtjY&feature=youtu.be
[1] http://texaswellandhealthy.org/2013/02/25/a-quick-way-to-show-your-support-for-extending-medicaid-coverage/