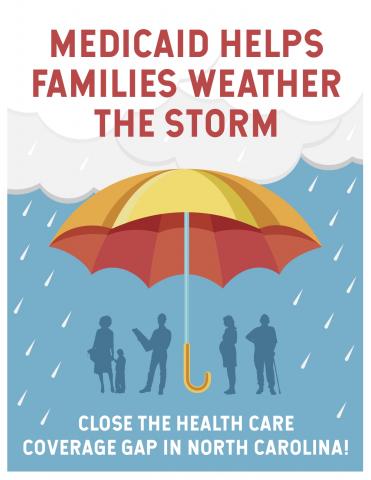 Medicaid Helps Families Weather the Storm (Storybook)
Medicaid helps families weather the storm during times of need—whether it be during a health care crisis or a time of financial hardship.
But in North Carolina, lawmakers have yet to make this critical and often life-saving program available to about half a million low-income uninsured adults. That needs to change—now. North Carolina moms and families need and deserve health coverage. Expanding Medicaid would save lives and improve the health of our communities.
MomsRising and members of the Health Action NC coalition created this powerful storybook to deliver to lawmakers to tell them to close the health care coverage gap in North Carolina.
Stories like Christina, a MomRising member in McLeansville who wrote, "My Mother is uninsured. She is an amazing grandmother and would give the coat off her back to help another. For the past couple of years she has not been able to work due to medical issues and doesn't have medical insurance coverage."
Please read and share the stories in this book with lawmakers, and also with your friends and family in North Carolina. It will show them that we are all stronger and healthier when everyone is insured and cared for.