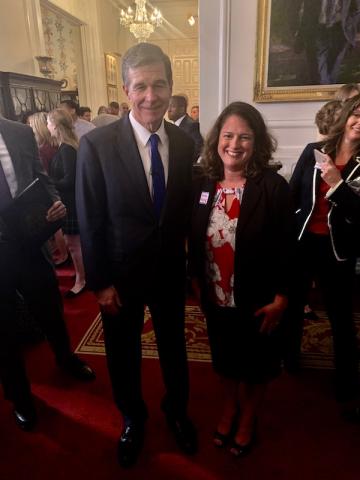 May MOMentum: Victory in NC, Training Moms To Run for Office, and MORE!
Happy spring! May has been an amazing month for our movement, from the joy and honor/memorial messages we shared with each other on Mother's Day, to the legislative progress we celebrated on paid family and medical leave and maternal health. We also stood up and spoke out to protect our rights and the freedom to choose the timing of our pregnancies. Read on for these highlights and more — and thank you for all you do to support the MomsRising movement!
P.S. As always, we love to hear your feedback. What do you love about being a MomsRising supporter? What do you think we should tackle next? Send your thoughts to me, anita@momsrising.org. Thank you!
---
---
VICTORY IN NC
After years of focused advocacy that YOU boosted with your generosity, N.C. Gov. Roy Cooper (pictured left) granted state workers up to 8 WEEKS of paid parental leave!
"Moms across this state are enormously grateful for Gov. Cooper's powerful commitment to mothers and families, which is truly impressive," said Beth Messersmith, Senior North Carolina Campaign Director for MomsRising (pictured right). "In addition to this executive order, he has banned the use of salary history in state agency hiring and required pregnancy accommodations for all state employees."
Taken together, these measures will significantly improve the lives of state employees and their families, while setting an example for the rest of the state to follow. Thank you for supporting our ongoing work to make paid family and medical leave a reality for all families!
Read more in our Newsroom: Leading Moms Group Applauds Gov. Cooper for Executive Order on Paid Leave and for 'Powerful Commitment to Moms and Families'
---
RUN AS YOU ARE
This May, MomsRising partnered with VoteRunLead to cosponsor #RunAsYouAre2019 trainings for women who are interested in taking the next step in leadership and running for office. More than 800 women participated in trainings in 20 cities across the country, gaining skills, information, and confidence to enter politics and win!
You made these trainings possible through your support of MomsRising Together. THANK YOU!
Read what mom and #RunAsYouAre2019 participant Angela Andrews (pictured above) had to say after her training experience: Don't Just Worry About My Child, Care For My People
---
| | |
| --- | --- |
| | MEDIA SPOTLIGHT |
Kamala Harris Reintroduces Maternal Mortality Bill, Aiming To Prevent Healthcare Bias Against Black Women
Refinery29, May 22, 2019
"We are glad that [Harris] and other lawmakers are putting forward proposals to address this crisis and focus on the disparities. If our leaders truly care about the lives and healthcare of their constituents, they will follow Sen. Harris' lead and turn this bill into law."
— Monifa Bandele, Senior Vice President and head of maternal justice campaigns at MomsRising
---
| | |
| --- | --- |
| | MEMBER LOVE |
Members share how MomsRising is a positive force in their lives
"I've been a supporter of MomsRising from the beginning. You all do amazing work. I try to remember to donate every year either for my mom's birthday (March) or Mother's Day. Long ago (probably 2006 or 2007) I wrote to request that there be a way to make a donation in someone's honor or memory. I was thrilled to see the addition of the e-card this year...I am grateful for all you do."
— Kristen
Tell us, what does MomsRising mean to you? Send your comments to anita@momsrising.org.