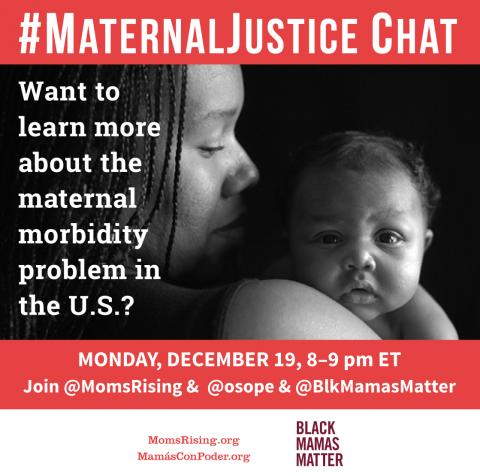 #MaternalJustice Tweet Chat 12.19.16
International rates of maternal morbidity have been decreasing, however in the United States it's a different story. 
Pregnancy leads to the deaths of over 600 women each year in the US and US maternal mortality is at the worst it's been for 15 years. For black women, the outcomes are even worse, with maternal death rates being 4x times higher than for white women, a rate that has basically gone unchanged since 1915. 
A report published in the September issue of the journal Obstetrics & Gynecology found that from 2000 to 2014, the maternal mortality rate for 48 states and Washington, D.C. increased 27% from close to 19 deaths per 100,000 live births to close to 24 deaths per 100,000 live births. In Texas, the rate doubled between 2010 to 2012.
Join us this Monday, December 19th from 8-9pm ET on Twitter to

 discuss the rising maternal morbidity/mortality problem in our country with a focus on the disparities facing black women.
Hear from @osope and @BlkMamasMatter and other activists, organizations and Moms. Share your resources, information, stories and questions...we want tpo hear from you!
All tweets must include the #Maternal Justice hashtag to be part of the Twitter chat stream.
Retweet questions that you are responding to, so your followers can follow the conversation even if they're not following the chat.
Responses should include the question number you are referencing (A1, A2, etc.). If a response has more than one answer, be sure to number them in sequence (ex: A1.1, A2.3)
More Info about our Tweetchat Partners:
Patrisse Cullors is a artist, organizer, and freedom fighter from Los Angeles, CA. Cofounder of Black Lives Matter, she is also a performance artist, Fulbright scholar, popular public speaker, and an NAACP History Maker. She's received many awards for activism and movement building, including being named by the Los Angeles Times as a Civil Rights Leader for the 21st Century. She the Senior Fellow for Maternal Mortality at MomsRising
To learn more about Patrisse, go to www.patrissecullors.com, Also connect on Twitter.
Black Mamas Matter Alliance is a cross-sectoral convening of leaders on Black maternal health. While the Black Lives Matter movement grew out of responses to police violence perpetrated on black communities, it has led to increased scrutiny of a constellation of factors that put the bodies and lives of black men, women, and children at risk. One of these factors is lack of access to good-quality health care, which is both a symptom and a cause of deepening social inequality.