We Are MomsRising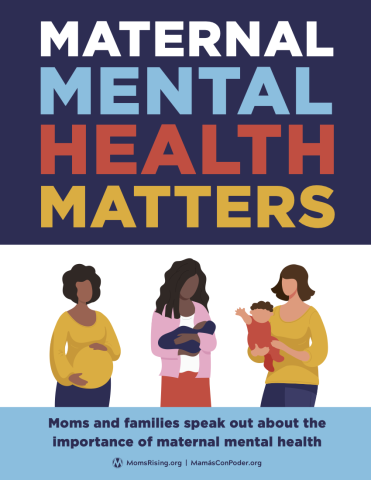 Maternal Mental Health Matters
At MomsRising / MamásConPoder, we have been hearing from families across the country about the critical need for improvements and supports for maternal mental health like mental health services, paid family and medical leave, affordable child care, an extension of Medicaid coverage, and better mental health diagnosis and treatment for new moms.
Moms like Kristin who shared her experience with MomsRising:
I wasn't diagnosed with postpartum depression until my daughter was 4 or 5 months old and by that point my Medicaid had already expired. Without diagnosis and treatment of my postpartum depression I don't know what would have happened - I was losing the ability to take care of my daughter and was struggling with suicidal thoughts. I was fortunate enough to find a clinic and mental health program in my county where the fees were on a sliding scale and to have a mom who could help me out somewhat; not everyone has that. 
In our Maternal Mental Health Matters storybook, you will read the real-life experiences of moms and families that demonstrate how we, as a nation, are failing to provide the supports needed to shore up maternal mental health. Mental health is a common pregnancy-related struggle affecting up to a quarter of people who have recently given birth, with a higher instance among low-income people, who are more likely to be covered by Medicaid or CHIP. Medicaid plays a critical role in making sure pregnant people have health care coverage, covering nearly half of all births in the United States. This health insurance program is especially important for people of color, covering two-thirds of Black, American Indian or Alaska Native, and Native Hawaiian or other Pacific Islander births. However, for many people, coverage ends just 60 days after giving birth.
Access to mental health services is critically important for the well-being of the birthing person, their children, and family. Research has found that postpartum depression can last years after giving birth and having insurance increases a person's ability to access mental health care. However, far too many new parents find themselves without health care coverage for many reasons.
In addition to a lack of health care access, not having paid family and medical leave or affordable child care options contribute a great deal to stress, anxiety, and depression for new parents. A nationwide survey recently found that 70% of moms are feeling overwhelmed and stressed, about half of parents are feeling depressed and hopeless, and that fewer than 15% of moms are getting enough sleep.
Racial disparities in maternal mental health are also of great concern. Black women experience both higher rates of prenatal depressive symptoms and significantly lower use of postpartum counseling and medications than their white counterparts. There should be universal screening and culturally competent treatment for every person who births a child.
We must do better. Families are the backbone of our communities, our economy, and our nation. Our policies should reflect that.