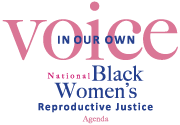 Maternal Health and Abortion Restrictions: How Lack of Access to Quality Care Is Harming Black Women
Maternal Health and Maternal Mortality
Nearly four million people give birth each year in the United States. They deserve to have healthy and safe pregnancies, and high-quality maternity care significantly benefits not only women but also infants and families.
However, our country is facing a crisis around maternal health and mortality. Approximately 700 women die every year from pregnancy and birth, and an additional 50,000 experience a pregnancy complication so severe that they nearly die. 
And even though about 3 in 5 pregnancy related deaths could be prevented, the maternal mortality rate has continued to rise with alarming speed. Maternal deaths are emblematic of the broader challenges facing the health care system, such as high costs, gaps in insurance coverage, lack of access to quality and community-based care, and a failure to integrate women's voices into decisions around care delivery and payment and to respect and listen to women receiving care.
Societal factors – also known as social determinants of health – such as lack of access to safe and affordable housing, nutritious food, adequate and reliable transportation and close proximity to hazardous environmental toxins also play a significant role in contributing to poor maternal health outcomes.
Disproportionate Impact on Black Women
The maternal health crisis is particularly acute – and alarming – for Black women. Black women in the United States are three to four times more likely to experience a pregnancy-related death than white women. Those deaths are also more likely to have been preventable. Importantly, Black women's heightened risk of pregnancy-related death spans income and education levels, suggesting that deeper societal factors, including racism in the health care system, are root causes of this crisis. 
Black women are experiencing two major reproductive health care crises at once­: the rising maternal mortality rate and restrictive laws that undermine access to abortion care.
We examine the connections between women's reproductive health, access to abortion and maternal health, and how social factors such as race, gender, economic status, and where you live affect the quality of health care and outcomes.
Read more in the new issue brief on Maternal Health and Abortion Restrictions co-authored by In Our Own Voice: National Black Women's Justice Agenda and the National Partnership for Women and Families.This brief is the first in a series the National Partnership is launching in concert with reproductive justice organizations and other allies.