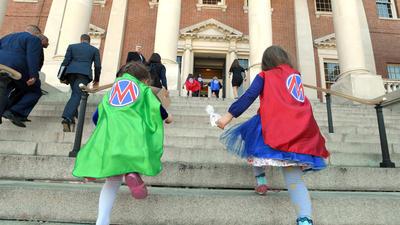 Maryland! We've got a lot to celebrate!
The 2016 Maryland legislative session came to an end at midnight on Monday, April 11th, and disappointingly, the Healthy Working Families Act did not pass. But we came so close, and we have a lot to celebrate.
Let's take a moment to thank all of the state legislators who voted YES on the Maryland Healthy Families Act because we need them to vote YES again next session.
And let's take some time to reflect on how we got here and what comes next.
For the last four years, MomsRising members have been fighting hard to win earned paid sick days for the over 700,000 working Marylanders, including many MomsRising members, who are unable to earn even a single paid sick day. Why? Working people shouldn't be forced to choose between going to work sick (or sending a sick child to school) and risking losing a day's pay or possibly even their job, if they stay home. That's bad for families and bad for our economy.
Whether it's walking pneumonia or the flu, germs happen and kids and parents get sick. It's just a fact. This is why allowing people to earn paid sick days as they work is pure common sense!
Here is a list of some of the things we've done together over the last four years to win paid sick days in Maryland:
For the last four years, MomsRIsing members have encouraged their legislators to sign on as co-sponsors of the Healthy Families Act. And in 2016 there were more house and senate co-sponsors of the bill than ever before. That's important because the more co-sponsors a bill has, the better chances it has of passing.

This year alone, MomsRising members sent over 1,200 messages, stories, and phone calls to our elected officials in Annapolis in support of earned paid sick days. Over the course of the last four years we've sent thousands more!

Over the years MomsRising has testified at each house and senate hearing, sharing the first-hand accounts of our members about the need for paid sick days. This year two MomsRising members Ericka and Claudia testified in person at the House and Senate bill hearings. These personal testimonies leave a powerful impression on our legislators!

While Ericka was in Annapolis sharing her testimony she was interviewed by a number of news outlets, amplifying the reach of her personal story!

Another MomsRising member, Flora, who owns and operates a childcare center in Prince George's County also testified this year and  spoke at the kick-off press conference. As a business owner, Flora knows how important paid sick days are for her bottom line, her employees and also the families of the children in her care.

The last two years MomsRising members and their children have come to Annapolis to hand-deliver the above-mentioned stories and notes. Our 2015 delivery of stories and toy rockets (because paid sick days boosts our economy!) was a huge hit and was picked up by the media. Check out the fantastic coverage here and here.  

This year, two dozen MomsRising members and their children came to Annapolis. The day we came was also the day of the first hearing on the bill, which made the day all the more powerful. Our members and kids garnered a lot of media attention (Baltimore Sun, WBAL TV, WBAL Radio, Washington Times, WYPR, Capital Gazette, and Maryland Public Television) and made a big impression on the legislators.  to hand-deliver our member's stories to elected officials. The kids dressed in superhero capes and the event was so amazing that it garnered major media coverage and made a huge impression on the legislators. In fact, when the lead sponsor came off the floor right after the House of Delegates passed the bill, one of the first things he asked was "Where are the kids in the capes?".

For the first time in four years, the bill was voted out of the House Economic Matters Committee and sent to the floor of the House of Delegates for a vote – and it passed 84-54! MomsRising was there to watch it happen (and tweet about it of course!).

During the last two weeks of the legislative session, MomsRising volunteers came to Annapolis multiple times to join our coalition partners and stand outside the State House to urge our delegates and state senators to pass the bill.  
We made tremendous and unprecedented progress this legislative session. It's time to take a moment to celebrate and to send a thank you note to the 84 members of the House of Delegates who voted in favor of the Maryland Healthy Working Families Act!
Thanking them now is important because we'll need them to vote YES again next session!
Make no mistake – we WILL be back to do it all again next session because we will not stop fighting for the over 700,000 Marylanders, including many MomsRising members, who are unable to earn even a single paid sick day.
Be sure to check out this 3-minute video of our Superhero delivery in Annapolis this year. If you've ever wondered what happens after you click a link or share your story with us, you'll want to see this!
Together we're a powerful force for women and families in Maryland. (And if you haven't yet, check out our Facebook album for some of the cutest, most inspiring pictures you'll see today!)