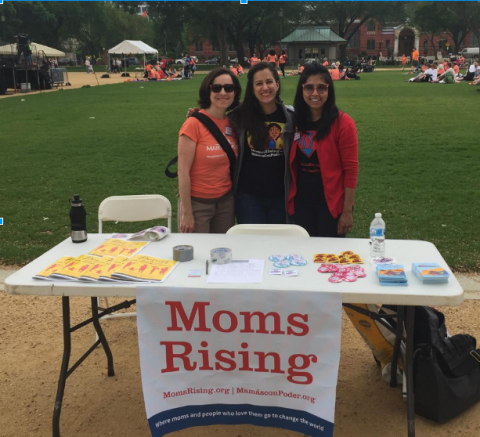 March for Moms Reflection
This was MomsRising's second year as a co-sponsoring organization of March for Moms, an event that brings together organizations, experts and activists from around the nation to converge in Washington DC to uplift our nations maternal mortality and morbidity crisis.
Out of all the developing countries, The United States has the worst maternal mortality rates. This fact continues to manifest itself as we see an increase in mothers dying in pregnancy, childbirth, and within one year of giving birth.
We are alarmed as the maternal mortality rates continue to rise. It is even worse for women of color. In fact, Black women are three to four times more likely to die from pregnancy related complications compared to their white counterparts. To combat this, members of MomsRising's Maternal Justice Team attended March for Moms from May 6th-May 8th .
While the statistics may be depressing, there is room for change. Here are three steps we can take to change the landscape and fight for maternal justice:
1.      Make visits with your local officials and have a conversation with them at the state capitol.
2.      Make phone calls and express your concern with your representatives' offices.
3.      Make time to write to your local legislators.
While this may seem daunting, you can use the following website to find the contact information for your US Senators here: http://www.senate.gov/general/contact_information/senato rs_cfm.cfm  and the contact  information for your US House Representative is here: http://www.house.gov/representatives/.
Our maternal justice team, in collaboration with March for Moms, focused on three issue areas as they all pertain to maternal health: maternal mortality, paid family leave, and maternal mental health. By taking the time to learn about the current status of a certain bill or act in your local area, you tell your leaders that you care and keeping them accountable.
We not only learned a lot from our fellow maternal health advocates but also realized the value of personal stories when it comes to making change. While we are on the road to creating change, we urge you to join us in this vast journey as it truly takes a village. We are grateful to Effie's Grace, March for Moms, and Moms2020 for all their leadership in the efforts to make a better place for mothers in our country. We hope you will join us.