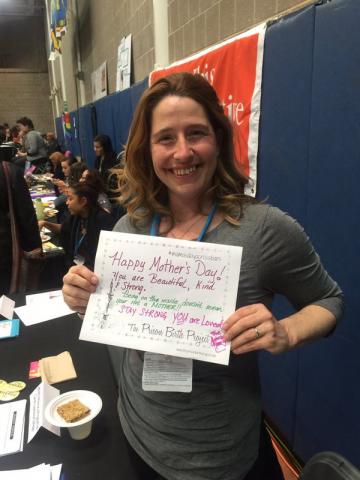 Mother's Day is bittersweet for tens of thousands of families separated by incarceration who wish they were together.
A majority of women in prison and jail are mothers; more mothers are locked away in "detention facilities" for immigrants and refugees seeking asylum.
Some organizations are mobilizing support for mothers who are incarcerated this Mother's Day.
The Prison Birth Project, a reproductive justice organization in Western Massachusetts, created #MamasDayAcrossBars to send supportive messages over the wall to pregnant women and mothers in jail. The campaign also aims to lessen the stigma associated with mothering from jail by building connections with allies in the outside community.
Strong Families, a project of the reproductive justice organization Forward Together, is teaming up with CultureStrike! and Presente.org, designing and delivering cards to detained immigrant mothers across the country to let them know they are not forgotten.
Incarceration's Many Barriers to Mother-Child Relationships
Many mothers were taking care of their children on their own before they were arrested. Their children wind up in foster care if a relative can't provide a home for them. Foster care can be the first step on the path to termination of parental rights and permanent separation of mother and child.
More than half of mothers incarcerated in a state prison never have a visit with their children. Prisons are often in rural areas, far from the urban centers where most people live. It's difficult for relatives to make the trip if they don't have a car, and social workers rarely bring children in foster care to see their mothers.
Mothers in prison can only make collect calls, and costs are as high as a dollar a minute. Although a vibrant movement for telephone justice has won some victories, the phone companies that profit from incarceration aren't giving up, and families still go into debt paying for calls and visits to stay in touch with their loved ones behind bars.
Some prisons even ban letters and greeting cards with children's drawings, arguing that they can be a means to smuggle drugs. The New Hampshire Department of Corrections issued such a policy right before Mother's Day last year.
These hardships fall especially heavily on low-income families of color, not because mothers in these families are more likely to commit crimes but because of greater levels of police surveillance in their neighborhoods, poverty that makes hiring a private defense attorney impossible, and racial bias in the criminal justice system.
During this presidential primary season, criminal justice reform is getting a lot of attention, with everyone from Black Lives Matter activists to conservative millionaires joining in. As part of this national conversation, MomsRising is calling for sentencing reform so that fewer mothers wind up in prison in the first place.