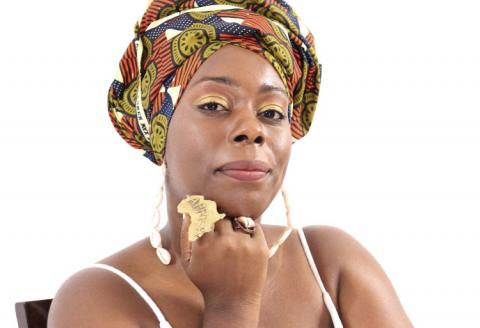 MamaHood and Community Healing: A Q&A w/ Ruth Jeannoel
Self-care has been dismissed as selfish, or worse, a capitalistic trend, by some who believe that community care is the only route to health. Others use self-care as a reason to post solo yoga selfies on their social media accounts. And while each camp may be on to something, I position community and self-care as equally essential to the health and wellbeing of us all, especially Black women and mamas. We need both to survive, especially during this pandemic. We need all forms of care to help create thriving communities. 
I began my self-care journey following my move from South Central Los Angeles to Milwaukee, Wisconsin to pursue doctoral studies on the self-care practices of Black women activists. I craved community. Although the prospect of creating new relationships was daunting, I was up for the task. Taking time to observe how others created community was instrumental in my understanding of what it takes to build community: commitment and love for certain, but also deep reflection of what you bring to the space. And I didn't want to bring unaddressed and unacknowledged trauma—at least not without effective tools to help me navigate and feel all my feelings, without projecting as much as possible. Therapy, journaling and reflection were tried and tested tools I used to move closer to healing, and closer to my community. Self-care, in this way, lifted barriers to my ability to be caring, present, and vulnerable to others in my community. 
Much of what I learned about care came from Black mamas who modeled what it looked like to love and care for self and others. Usually, I would have private conversations with Black mamas who shared their wisdom and experiences with me. We often ate a meal together and created sacred ritual. It is in this tradition that I interviewed Ruth Jeannoel about community and self-healing, MamaHood and the Sacred Ori Deck that she created as a way for us all to move closer to healing and joy. 
I want to start this interview by asking what brings you to healing work?
Ruth Jeannoel: What brings me to this healing work feels so vast and so large. On one hand, my purpose and my ancestors lead me to this work. And on the other hand, I've always thought that my intention on this planet is to bring justice to Black and Brown communities. Being raised in a Black immigrant family, I always felt there were a lot of injustices that were being done against my family, especially around poverty. It always felt unfair that there was so much poverty in the world and that my mom had to work two to three jobs, that she had to work so hard where other people could easily access basic rights like quality education and family supporting wages. What I've come to understand is that justice is healing work. And if we can tap into justice then we can heal our communities. 
The Sacred Ori Deck offers beautiful art-work as well as affirmations to help us stand in our power. Walk me through the process of deciding to do a sacred deck. How did you come to this idea?
RJ: A couple of years ago I was engaged in Mama's Day movement work with Forward Together. I was a thought partner, I wrote an article, and we were like, "Okay, what can we do for Mama's Day?" I've been doing this work with Forward Together for three years now. Every Mama's Day we work on creating art, we work with the artists, we talk about what we want the art to look like, and we send e-cards out to communities and organizations that work with and celebrate mamas. We see this work as integral to shifting the culture around mamahood to include people who really take care of and care for communities.
I've been having a lot of dreams of what it actually looks like for mamahood and motherhood in this time period. My intention was that mamahood is so vast and it's so much more than just human beings, that the way the earth and nature carries us is mamahood. The way that the ocean and trees carry us, the way the sun comes up and the moon comes down. All of that is part of our nourishment and is part of the caretaking of our spirits. Fanm Saj started to have cultural strategy meetings with Forward Together, and I got the idea for us to come out with a deck of cards where we're not just giving cards to mamas this year but that they actually use them for a tool for healing. That felt really important to me. It felt like we got to give people tools to continue their own healing work through the year and not just on Mama's day. Of course, at first, folks were like, "What do you mean? What are we going to do? This is a lot." Mind you, this was in January. Mere months before Mama's Day in May. So capacity was a challenge that we had to overcome. But there were many good coaches and great Forward Together staff that helped to make it possible. 
In your Dedication for the sacred deck, you mentioned that we are all Fanm Saj, that we are all catching communities. Can you say more about catching communities and more about Fanm Saj as it relates to the sacred deck?
RJ: I'm Haitian, my family is from Haiti, by way of Nigeria in West Africa. Fanm Saj are midwives. Midwives, we know, catch babies. And at Fanm Saj we catch communities. I remember a period in my life where I was grieving and experiencing a lot of anger. I was also organizing and it felt like there was no room to organize and heal. It felt like I was in a space of being retraumatized and not taking care of myself. Fanm Saj became a space that held me. I didn't realize that I needed to hold space for myself. That was around the same time that I started to facilitate and hold weeping circles.
Weeping circles was a space where my peers, colleagues, and I could come together to cry. Crying is an emotion that I wanted to hold space for. We ran with the weeping circles at Fanm Saj. It is now one of the program areas that we have. We also hold sacred healing circles every month around the full moon where we ask folks to share how they are feeling. Then we share different healing tools with each other to just really keep ourselves up. The sacred deck is a tool. In my own healing journey, I use knowledge of crystals, I get reiki and acupuncture— each are healing tools. And decks have also been instrumental in my healing journey. People often use Tarot decks or they'll use oracle decks. But I wanted to create a deck that anyone could use because it's an affirmation deck. No matter if you're Christian or Muslim, or atheist, whatever your tradition may be, I wanted to make sure that you would get something, a cultural tool, to really take care of yourself, your mind and your own spirit.
Can you talk a bit about what we can expect from the sacred deck? How can we get one for ourselves?
RJ: It's really special because the deck itself is called Sacred Ori Deck. It's an Ori and Yoruba tradition, your inner head is second to God. Our Ori is one of the most important things that we have in our spirit. The better that we take care of our inner head and our Ori and that we listen to our Ori, the better aligned we'll be with our destiny and with our minds.
The sacredness of the deck is meant for us to tap into ourselves. Each of the affirmations is to give somebody an opportunity to see a picture, see a phrase and to notice how you're feeling but then also to do the practice of literally holding your head and saying that affirmation for yourself.
In the Yoruba tradition, every morning we thank our Ori. It's literally our GPS on this planet. In a lot of ways, we've been taught that everything that we need is external but that in actuality many things that we do need our body will tell us. If we're not feeling well our body will tell us. If we're not eating enough our body will tell us. It's the same thing with our Ori and so it's just being able to see the cards and to be able to see the art and read the affirmation to affirm to yourself throughout the day like, "Okay, I surrender. I just release any control, I just let it go." Imagining and seeing the cards daily becomes an embodied practice that can shift the way that we think about life and our journey.
The cards right now are a limited edition. It's beautiful to be able to get a deck of cards. The cards are a donation to the work that we're doing supporting the leadership of Black women, supporting the leadership of Black youth to be healers in their own communities, in their own families, and to learn strategies to take care of themselves. The Sacred Ori Deck is available on our website, https://www.fanmsaj.org. 
Who do you envision this deck being for?
RJ: I want this deck to reach everybody. I want this deck to reach Black folks, trans folks, everybody. I think about the communities that I work with and I want these decks to reach organizations that are doing racial justice and reproductive justice work and that it reaches their members. I want it to reach people who are facilitators because they can use the deck as an opening or a closing. I want folks to really take care of themselves and each other. Now more than ever we are understanding that we all have to take care of ourselves in a different way while we're in this COVID-19 season. I want people to use this deck as a tool to engage their membership. I want the folks in that membership to use it on their families and then families to use it at the cookouts. That's the trajectory of how I see it being used and who I want it to reach.
If there's somebody standing right in front of me and I see them, that one person I want it to reach is that Black mama who is raising a child during COVID-19, who is like me, working but also trying to manage their academics and their schooling and also managing the kitchen and the house and the laundry. I want it to reach those women, or caretakers, because those are the folks that are hyper stressed because not only are you having to take care of yourself but you also have to take care of other people. It's important that we expand our understanding of mamahood. People who are caretakers for their elders, or for their parents, or the people who have to caretake for their partners, the healers in our communities, that's caretaking. The doulas, the midwives, all of that work is caretaking. And we not only have to deal with our own stress and trauma, we have to support other folks. Those are the people that I want this deck to reach.
I have been using affirmations in my ritual work, in my self-love work, and affirmations have definitely guided me back to myself, time and time again. I love that you have artwork as well as affirmations in this Sacred Ori Deck. I'd like to know which affirmation most resonates with you and why.
RJ: The card that I lean on the most is the one called breakthrough. It says, "Be committed to getting through the shadows to obtain the abundance that you and your ancestors deserve. When we know what we deserve, we live differently. Even in the space of darkness where we can't seem to see our way out, storms will come and go but once the storm passes you can more clearly see a breakthrough." Then the sacred Ori affirmation is, "Ori, allow me to ride out the storm and know that I am deserving of love, peace, and harmony."
This card most resonates with me right now, especially during this creation process which in a lot of ways, from January to now, I could have stopped. It could have turned into something else, which would have been perfectly okay because we're living in a time that productivity can be thrown out the window because we just need to live and breathe.
This process helped me step all the way out of my comfort zone. I write and I haven't published a piece since 2017. That was such a hard experience because that has meant that what I love to do, I suppress it. I haven't been writing because I've been tackling my healing work. I've been reflecting on what's holding me back from writing and publishing. I ask myself, "What are you waiting for?" I had to push myself during COVID-19, during this season where there have been so many uncertainties but this affirmation it really reminds me that, again, I'm going to continue to ride out the storm and that storms will come and go, but by the end of it I'm going to see a breakthrough and the breakthrough is, at least for me and Fanm Saj, is the Sacred Ori Decks.
How is the Sacred Ori Deck and Fanm Saj a reflection of your own power?
RJ: I think of power as multi-dimensional. We have our personal power. And behind me there are ancestors that have come through my lineage who push me into my own power. White supremacy, capitalism and patriarchy derails our destiny. We are spiritual beings having a human experience and we all have a destiny; we all have a purpose. But white supremacy has made it so we can forget our purpose and our destiny. Doing freedom work disrupts white supremacy, capitalism and patriarchy. Freedom work has led me to step into my power, to take action for a community. Fanm Saj and Sacred Ori Decks have been midwiving me so we have our members and we have our sessions and then we've been doing some programming with youth, with the quarantine and healing work that we're doing and connecting political education with wellness. Fanm Saj pours into me, just as much as I pour into Fanm Saj. 
The space I share with members is reciprocal. We give, take and share at a pace that feels comfortable for me. The work moves at a pace where I can still be a mom, I can still be a wife, I can still do community work, and I get to practice healing. I feel much more aligned with my destiny because I'm coming from a place that is grounded in traditions, grounded in storytelling, grounded in healing. And I create opportunities to get people to think about their own healing, whatever that looks like. Healing is not linear and it doesn't have to look like mine, and I want people to know that healing is available, and that Black women deserve spaces for ourselves and that we'll continue to create it. If spaces are not created for us, we'll create them for ourselves.
Speaking of COVID-19, for many of us, this moment is illuminating racist disparities that we've struggled with and struggled against for generations. How can we tap into our sacred power to help get us through this moment and any other challenges we may experience?
RJ: It's a hard truth that as Black folks we've faced collective trauma before. Slavery was a collective trauma. There's been significant things that have happened to us that have been tough and hard. Trauma is both collective and individual as we each hold our own pieces of trauma. Collective trauma means that we need collective healing to happen. There's no cure for COVID-19 right now, so we need to ask ourselves, what healing needs to happen? There's so many people that have passed on and transitioned, there are so many people that are in the hospital, and then there's so many people who are just trying to navigate, that have lost their jobs, that are losing their housing or whatever it is that they're losing. 
One of the cards is about gentle character. In this moment, I would say one of the most important things that we can do is to find ways to caretake and midwife each other. This is a time that we have to support each other.