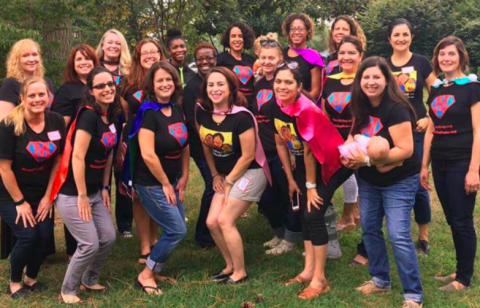 MamásConPoder Wins the Prestigious Latino Diamante Award in North Carolina
We are proud to announce that MamásConPoder, MomsRising's Spanish-language community, has been selected to receive the prestigious 2017 Latino Advocate Latino Diamante Award! This award recognizes significant contributions made by an elected or appointed civic leader or by a community organization with the goal of improving the quality of life of Hispanics/Latinos in North Carolina.
Our North Carolina MomsRising/MamàsconPoder team showed up regularly with allied groups last year at the Governor's mansion around state immigration work. They have been a visible, loving, and supportive presence in support of immigrant families in what is often a hostile environment.  
Our Senior Campaign Director, Beth, has been instrumental in defending and safeguarding the rights of the Latino community in North Carolina through her work on state focused campaigns and community outreach events.
Sheila, our on-the-ground organizer, has expanded inclusiveness by encouraging residents, local organizations and businesses to take action on issues that affect the Latino community as well as ensuring the voices of Latina mothers are heard on everything from early learning and workplace rights to healthy food access and oral health. 
Thanks 
to the entire 
MamásConPoder
 national team who provide support, leadership, and encouragement to make the North Carolina work possible.