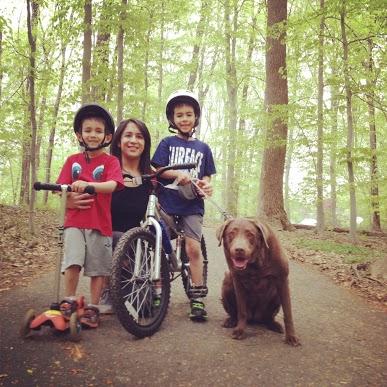 Making Mom's Day: Health Insurance for the Family
As a mom of two young boys, I know that one of the biggest issues held near and dear to every mother's heart is ensuring that her children and family are healthy and happy. I also know that taking care of myself and making sure I stay healthy is important for keeping the family running smoothly. Moms truly are the CEOs of most families, particularly when it comes to health care. In fact, a forthcoming Kaiser Family Foundation survey shows that moms take responsibility for managing their children's health needs more than 70% of the time, for example, by choosing a doctor, taking them to appointments, and making sure they get follow-up care. Moms also are the main members of the household who take care of kids when they are sick, often having to miss work to do so.  
Moms know how important regular health care is for making sure their children stay healthy and can succeed and thrive in school, sports, and other activities. Parents too benefit from regular screenings and preventive care. Silent health problems, such as hypertension and diabetes, often go unnoticed without routine check-ups.
Having health insurance is important for helping children and their parents access the care and services they need. Health insurance also helps ease worries and stresses for moms by providing peace of mind and financial protection for their family in case of an unexpected illness or accident. People without insurance are less likely than those with insurance to receive preventive care, more likely to be hospitalized for conditions that could have been prevented, and are more likely to die in the hospital. In addition, medical bills can lead to major financial struggles for uninsured families.
Medicaid and the Children's Health Insurance Program (CHIP) offer low-cost health insurance that covers the care and services children and their parents need. Children and teens can get regular check-ups, shots, doctor and dentist visits, hospital care, mental health services, prescription drugs and more. Parents also are covered for a wide range of services.
Most children who are uninsured today already qualify for Medicaid and CHIP and just need to be enrolled for their coverage to begin. In addition, in many states, more parents and adults than ever are eligible for Medicaid today, including many who were not eligible in the past.
It's still not too late to wish a mom Happy Mother's Day and to thank all the moms out there for everything they do to care for their families. And, it's never too late for eligible children and families to gain access to comprehensive, low-cost health insurance by enrolling in Medicaid and CHIP. Enrollment in Medicaid and CHIP remains open to eligible families throughout the year. To learn more about Medicaid and CHIP and how to enroll, visit your state's Medicaid agency or HealthCare.gov. Or call 1-877-KIDS-NOW (1-877-543-7669).