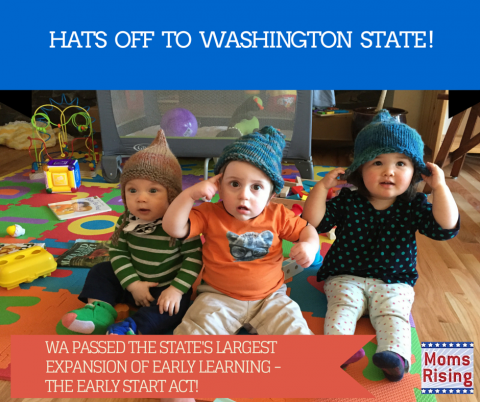 Making History for Our Littlest Learners
Can we take a moment to celebrate?
We made history this week. Washington state passed and funded The Early Start Act, making this the largest expansion of early learning in our state's history.
The voices of moms, dads, grandparents, and early learning supporters made the case 
for increasing access to high-quality 
early
learning
opportunities for our state's littlest learners in a fast-paced, packed legislative session (and 2 special sessions!) in Olympia. And because of these brave voices, the future is bright for our littlest learners in Washington State.
We know that investments in our youngest matter. And they make a big difference.
Investing in our youngest is a critical and smart investment for children, for families, and for our state. In fact, investments in high-quality early learning programs like preschool and childcare actually save future dollars for everyone; with studies showing that for every dollar invested in high-quality early learning, we see a return of up to $8.00. And it works! Children who have high-quality early learning experiences are more likely to succeed in school, graduate from high school, gain stable employment, and are less likely to be arrested. 
What does all this amount to? 
More children and families will have access to high-quality early learning opportunities like preschool and childcare. Early learning providers will have access to the tools and supports they need to continue to provide high-quality care. And families will have access to important information on finding care for their little learners. That's incredible!
While we celebrate this major victory, we're not fooled into thinking that our work is not over. We have a long road to ensure all children receive the best opportunities to be ready and successful in school and in life. Because we know that when children and families win, so do our communities and our state!
Onward!