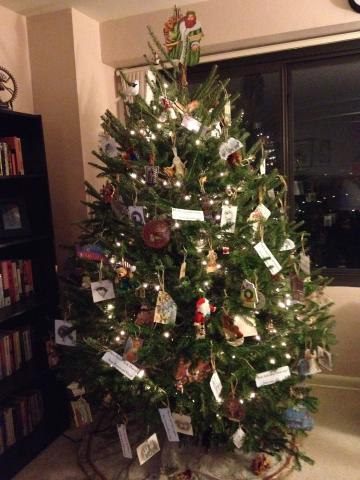 Make storybook Christmas ornaments in 3 easy steps!
My favorite Christmas memory is from one of the toughest years of my adult life.
When my husband and I moved into our apartment together, our first winter living away from home was the hardest. We were in a new city with no family or friends in the area, we rarely saw each other because he went to school in the morning while I worked nights, and we barely had enough money to cover our basic expenses. With all the change, I was adamant that we try to have sense of normalcy during the holidays—which included buying our first (small) Christmas tree!
At first I figured we would make some paper snowflakes for ornaments, but one morning I walked by a Borders that was having a closing sale with children's Christmas books on display and got the idea to make ornaments out of storybooks! Here's what I did:
Materials Needed
Children's books of your choosing (thrift stores are a great place to find some affordable, vintage holiday books)
Craft scissors
A hole puncher
Some ribbon or twine
Process
Once you've found your books, you need to break the book apart so that the pages are separated to make it easier for you to cut out your ornaments. When the pages are ready, take your craft scissors (to make the edges ornate) and cut your images out. Have fun with it—don't be afraid to mix and match shapes! They don't need to all be circles or squares. If you use only a pop up book, you may not need the craft scissors at all since the edges will already be shaped and smooth.
After you've cut out your ornaments, take a hole puncher (or a needle/paper clip for small pop-up book images) and punch a hole at the top of each ornament.         


   


   

Then you just take a piece of ribbon/twine and loop it in the hole you made. That's it! Here is what they look like on my tree:
The best thing about these ornaments is that my husband and I made them together sitting in our then sparse living room while we watched movies. I have some store bought ornaments now, but these homemade ones are still my favorites. Because every Christmas since, when we decorate the tree, these ornaments remind us of that first crazy, wonderful year we had together. 
Have a favorite holiday memory or your own ornament idea to share? Tell us about it in the comments section below!