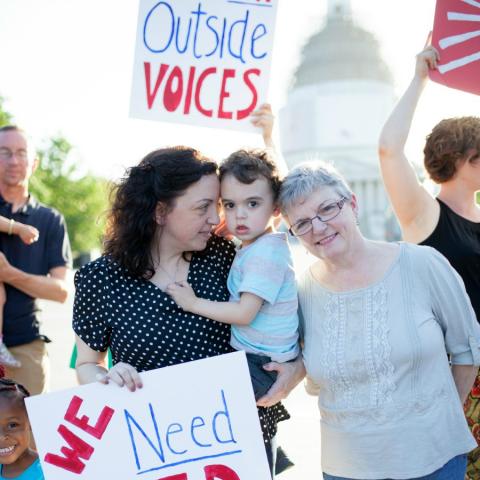 Memories of warm weather might be fading, but what is NOT fading is the need for paid family leave in New York state!
The momentum is growing, but we can't take anything for granted. Take a quick moment right now, before our thoughts turn entirely to the holidays, to send a quick message to NY Governor Cuomo urging him to make paid leave a priority in Albany. 
Here's the scoop: Right now across the U.S., only 13% of working families have access to paid family (maternity, paternity, medical) leave via their employers. [1]
And, horrifically, one in four working mothers must return to work just TWO WEEKS after giving birth because they don't have access to paid family and medical leave. [2] Other new moms are forced to pull a "Mom MacGyver" by cobbling together a few weeks of vacation and a few earned sick days (if they're lucky enough to have them) to stay home to recover from childbirth and/or welcome a new child into their lives. This is unacceptable and simply devastating for working families and for our economy.
Meanwhile it is very clear that paid family leave doesn't just boost families; it's good for the economy too. Studies show that paid leave improves employee retention and lowers employers' turnover costs, increases worker productivity, improves employee loyalty and morale, allows smaller businesses to compete with larger companies for the best talent, and heightens American businesses' competitiveness in a global economy. [3]
It's past time to catch our public policies up with our modern labor force! Let's make New York next! Click here to send a quick message to Governor Cuomo urging him to make paid family leave a priority for all New Yorkers!
And - get your friends and family involved too! While you pass the rolls around the Thanksgiving table, take a moment to pass around the laptop, or your phone too, so everyone can take a moment to take action and keep the NY momentum growing!!!
Whether it's to care for a newborn you swear already smiles, a mom who is ill, or a spouse battling cancer, being there for family is what matters. You shouldn't have to give up a paycheck to do it.
Together, we're a powerful force for New York families!
1. Bureau of Labor Statistics | 2. In These Times: The Real War on Families | 3. National Partnership for Women and Families: Paid Family and Medical Leave – Good for Business