Make Every Day International Peace Day - At Home or At School
Around the world, myriad creative activities have been organized for September's International Peace Day.  And for those who prefer reflection, there is an organized pause, or moment of silence at noon worldwide on September 21, 2011.  But for those for whom International Peace Day may have passed them by, how can we create a sense of International Peace Day every day?  It takes work, and mindful effort, but it doesn't have to be complicated.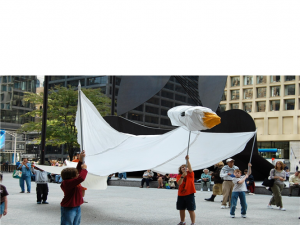 Children from Chicago participate in Jane Goodall's Roots & Shoots Peace Day festivities (photo from WBEZ.org by Jennifer Kim)
On the global level, President Obama, in his Peace Day speech to the UN General Assembly repeated throughout his talk: "Peace is hard.  Peace is hard."  It is especially hard when we try to get it through the tough heads of world leaders.  But it seems do-able when starting with our kids, who see the world with a baggage-free lens, complete with optimism, open-mindedness, fresh ideas, and without limits.
Start with some simple steps in honor of Peace Day (i.e., any day), and see what sticks after that to create some lasting practices and raise young peacemakers:
Sing and dance and make music

!  I'm inspired by Playing for Change's videos, like "Imagine" and "Stand By Me," where musicians from around the world collaborate, even if they've never met, to create one harmonious, beautiful, seamless song.  Children's artists like Red Grammer and Dan Zanes also convey hopeful messages for young peacemakers.  The dreams of so many for a better world are on display through these inspiring efforts.
Talk about what you just saw on the Playing for Change songs.  For example, what does "Imagine" mean in the context of the song?  Why is it important to "imagine" and why are so many people singing about it?  What can you learn about the lives of the people that might be shown for just a few seconds at a time through the song?
Find it on a map.  With the singers coming from Accra, Bahia, Katmandu, New York, and more, find their hometowns on Google Earth or spin a globe.  From there you can learn anything from what languages they might speak in those places to their history of war and peace, to more about the local instruments you see them playing.  Or look up the artists from a few of the locations and listen to more of their music to expand your musical horizons.
Join a peace movement.  It takes some time to tap in to a great initiative for peace.  So if you missed this year's festivities, start planning from now for next year.  For example, look up Jane Goodall's student-based Roots & Shoots organization.  Is there a chapter of the group at your local school?  If not, start one!  Is there a local United Nations Association organization in your town?  You could also start a chapter.  Or how about tapping in to a local chapter of an organization that hosts exchange students, like AFS, YFU, or EF Foundation – these are often composed of people who've been committed to peace efforts for years and are living it.
Be nice!  Finally, the simplest thing of all – just be nice.  Before losing your temper, take a deep breath and try calibrating your anger.  "World peace starts at home" is so true.  By deliberately creating peace at home, you begin a process of living out the change you wish to see.
For more ideas, see Growing Up Global: Raising Children to Be At Home in the World, available from your favorite bookseller and amazon.com.