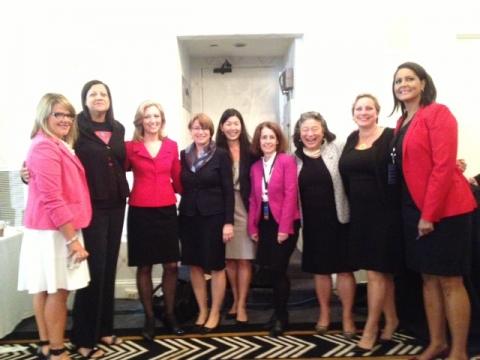 Major victory for the movement!
MAJOR VICTORY! MomsRising.org's top policy priorities & members were prominently featured at the The White House Summit on Working Families--and also in their blog recap of Monday's Summit! You've got to check it out: The black t-shirts with the red Super Ms are MomsRising!

Never in my wildest dreams did I imagine that what happened on Monday at the Summit could ever happen… From our launch in 2006, MomsRising members have been pushing by email, local meetings, snail mail, phone, text, and more for national leaders to address the need for childcare, fair pay, paid family leave & sick days, increased minimum wage.
The fact that the White House held a Summit on these very same issues is because of you!
You were heard!
Your voice, and that 5 seconds you take to click a link in an email played a major role in making this happen.
And we were beyond delighted that the set of policy priorities which MomsRising (you!) has been pushing since our inception (childcare, fair pay, paid family leave & sick days, and increased minimum wage) were addressed throughout the Summit, including by President Barack Obama, Vice President Joe Biden, First Lady Michelle Obama, and Second Lady Dr. Jill Biden, and many others, including even Mad Men star Christina Hendricks.
"Anything that makes life harder for women, makes life harder for families." —President Obama #FamiliesSucceed

— Barack Obama (@BarackObama) June 23, 2014
Let's help more #FamiliesSucceed by making sure our workplace policies allow for work-life balance → pic.twitter.com/CFxbGWH3dl

— Vice President Biden (@VP) June 23, 2014
"People should feel energized and empowered & I sense that in the room today." —FLOTUS on building a movement to help more #FamiliesSucceed

— The First Lady (@FLOTUS) June 23, 2014
And it was such an honor to be part of the Summit, to be invited along with our members to speak (one of our members even introduced the First Lady!), and to have our members be part of the Summit too, both in-person and via our book of over 1,000 member stories, and via kites that were sent in from MomsRising members decorated with quotes about the public policies that are needed to boost families and our economy.
"Two people shouldn't have four jobs and still struggle to pay the rent" -Kyle, #FL #WorkingFamilies #FamiliesSucceed w/@MomsRising

— meredith tweed (@ms_tweed) June 23, 2014
Moms are a powerful force. And now that our top priority policies are in the public eye, MOMentum is growing. Thank you for pushing with us.

*You can see the White House blogpost, including great pictures of MomsRising members, that is a recap of the Summit here:http://www.whitehouse.gov/blog/2014/06/24/heres-what-you-missed-white-house-summit-working-families