"We're not asking for more credit, just fair credit."
This is how MomsRising member and stay-at-home mother Holly McCall described her campaign to change new financial rules that prevent stay-at-home parents from securing consumer credit.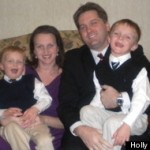 Holly, a mom of two young boys living in Vienna, Virginia, has a sterling credit history and her family supports themselves financially from her husband's good paying job.  However, while they made a decision as a family to have only one income earning parent, it's only Holly who is being penalized financially.  Under the new "ability to pay" rules as part of the CARD Act, Holly's credit card application was denied without getting her husband's permission. Although they share their income and debt (if ever acquired) equally, he doesn't have to ask her permission to get credit himself.
While the goal of protecting consumers from predatory lending practices is critical, the current interpretation of this rule does nothing to help credit card companies evaluate a family's credit worthiness and puts an unfair and long-term financial burden on parents (both men and women) who choose to stay at home with their children.
Soon after the rule took effect last October, Holly and I worked to develop a MomsRising to petition calling on the Consumer Financial Protection Bureau to revise the rule to protect stay-at-home parents.  In April, Change.org joined the campaign.  In just a few short months, over 45,000 people have signed Holly's petition.
We delivered these petitions – printed on hundreds and hundreds of pages – to the Consumer Financial Protection Bureau last week, along with a request for a meeting to discuss the issue further with their staff.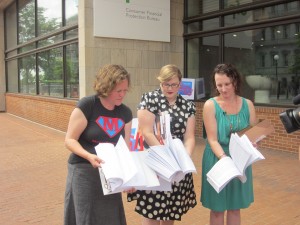 Over 45,000 petition signatures!
The petition delivery generated tons of media coverage from local Washington DC's Fox and CBS News stations, as well as NPR, CNN Money, Forbes, Huffington Post and more!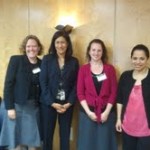 Holly McCall, Ashley Boyd & CFPB Staff
We're getting traction!  Last week after delivering the petitions, we were invited to meet with  CFPB Director Richard Cordray.  After listening thoroughly to Holly's concerns and hearing other comments generated from the 45,000 petition signatures calling for a change to this interpretation of the CARD Act, Cordray indicated that the CFPB would review the matter and report back within 30 days.
Thanks to everyone who has signed on to our petition.  If you haven't yet, sign it now and share it with your friends who are interested in speaking up for stay-at-home parents too! As we await the CFPB's review of this issue, let's show that the public support for this campaign is growing day by day!